Fancy Horse riding in South Africa?
As we bounced along the dirt track into the yard it felt as though I had never left.  My husband David and I were back at Horizon, our African home from home & a flood of excitement washed over us. With the sun's warmth on our backs, we wandered down across the gardens to the dam, taking in the beauty of the sparkling waters and watching the horses graze. Some even take the plunge, revelling in the cool water, while others paddle at the water's edge. It is an idyllic scene for any horse lover.
Horizon Ranch is based in the malaria-free Waterberg biosphere in South Africa. The reserve is home to a variety of wildlife including hippo, giraffe, zebra, antelope, leopard, caracal, brown hyena, jackal, crocodile and aardvark. There are also over 300 bird species on the reserve making it a birder's paradise. A herd of 80 horses live out all year round, coming in only to be fed, checked over and ridden, giving them the most natural life a horse in Africa can have!  All levels of rider are catered for here, from complete beginner to competition rider, and the riding style is relaxed and natural, in keeping with your surroundings.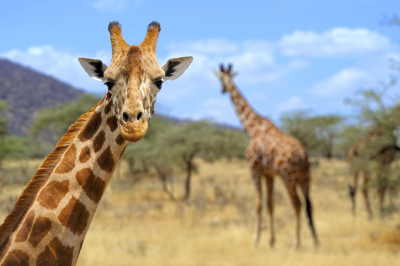 The ranch has a lodge house by the dam and also a luxury camp up on the escarpment and today we will ride up to camp but not before a morning ride on my darling Nebula, a black Boerperd (farmer's pony). Nebula and I have been friends for years and there is nothing we like more than coming back from a fast morning ride, whipping off her saddle, and going for a swim together in the dam. It is always a highlight of my trip as she loves to swim.
In the afternoon, after a delicious lunch out on the lawns, it's time to ride up to Camp Davidson, named after one of the founders of ranch. I am taking Goose up to camp, a youngster I remember as a foal with a super personality. She is brave, very keen and has lovely paces – that's another horse to add to the favourite list (it grows every year). Staying in camp with a bunch of my Horizon chums is a riot! There are 7 of us, Anthony & Belinda (friends from home) and new friends Cat, Caroline and Claire.
Sundowners by the pool on arrival sets the scene and we all look forward to our delicious dinner after enjoying a hot shower under the stars. Each luxury tent has proper beds and ensuite facilities – our private deck looks out over the bushveld down to Sunset Lake in the distance. I truly loved all aspects of Camp Davidson, the riding is varied and exciting and the camp itself is so much fun! There is nothing quite like snuggling down under canvas with all the fabulous night sounds of Africa reverberating around you, lulling you to sleep. It is a very special experience and I recommend it to everyone.
For more information on special holidays like this, please contact 2by2 Holidays in Wheathampstead, specialists in Africa, Latin America, India and Sri Lanka.
Whether you want to travel alone, in a group, have a themed holiday, go on safari, travel on a budget or in luxury, 2by2 Holidays will share their experience, connections and knowledge to create your trip of a lifetime.