Junior Squash Tuesdays
West Warwickshire Sports Complex
78 Grange Road
Olton
Solihull
B91 1DA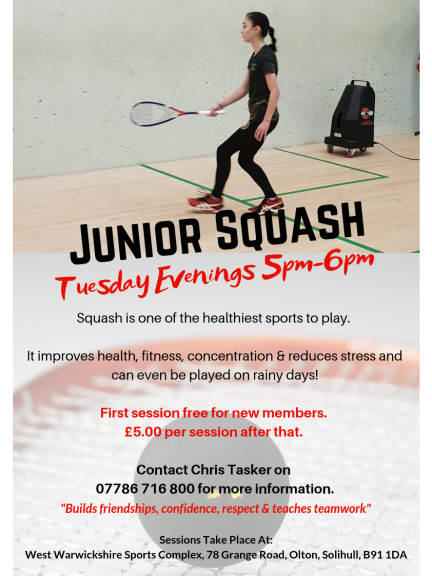 Bring your child along to our Junior Squash sessions
Every Tuesday evening our Squash coaches run sessions for Juniors. The first session is free for new members & then £5.00 per session after that. Goggles & rackets are provided. 
These sessions are great fun & perfect for building confidence and making new friends. 
If you have any questions, please contact our Head Coach, Chris Tasker on 07786 716 800.
Future dates
Tuesday 2nd April 5:00pm until 6:00pm
Tuesday 9th April 5:00pm until 6:00pm
Tuesday 16th April 5:00pm until 6:00pm
Tuesday 23rd April 5:00pm until 6:00pm
Tuesday 30th April 5:00pm until 6:00pm
Tuesday 7th May 5:00pm until 6:00pm
Tuesday 14th May 5:00pm until 6:00pm
Tuesday 21st May 5:00pm until 6:00pm
Tuesday 28th May 5:00pm until 6:00pm
Tuesday 4th June 5:00pm until 6:00pm
Tuesday 11th June 5:00pm until 6:00pm
Tuesday 18th June 5:00pm until 6:00pm
Tuesday 25th June 5:00pm until 6:00pm
Tuesday 2nd July 5:00pm until 6:00pm
Tuesday 9th July 5:00pm until 6:00pm
Tuesday 16th July 5:00pm until 6:00pm
Tuesday 23rd July 5:00pm until 6:00pm
Tuesday 30th July 5:00pm until 6:00pm
Tuesday 6th August 5:00pm until 6:00pm
Tuesday 13th August 5:00pm until 6:00pm
Tuesday 20th August 5:00pm until 6:00pm
Tuesday 27th August 5:00pm until 6:00pm
Tuesday 3rd September 5:00pm until 6:00pm
Tuesday 10th September 5:00pm until 6:00pm
Tuesday 17th September 5:00pm until 6:00pm
Tuesday 24th September 5:00pm until 6:00pm
Tuesday 1st October 5:00pm until 6:00pm
Tuesday 8th October 5:00pm until 6:00pm
Tuesday 15th October 5:00pm until 6:00pm
Tuesday 22nd October 5:00pm until 6:00pm
Tuesday 29th October 5:00pm until 6:00pm
Tuesday 5th November 5:00pm until 6:00pm
Tuesday 12th November 5:00pm until 6:00pm
Tuesday 19th November 5:00pm until 6:00pm
Tuesday 26th November 5:00pm until 6:00pm
Tuesday 3rd December 5:00pm until 6:00pm
Tuesday 10th December 5:00pm until 6:00pm
Tuesday 17th December 5:00pm until 6:00pm
Tuesday 24th December 5:00pm until 6:00pm
Tuesday 31st December 5:00pm until 6:00pm
Tuesday 7th January 5:00pm until 6:00pm
Tuesday 14th January 5:00pm until 6:00pm
Tuesday 21st January 5:00pm until 6:00pm
Tuesday 28th January 5:00pm until 6:00pm
Tuesday 4th February 5:00pm until 6:00pm
Tuesday 11th February 5:00pm until 6:00pm
Tuesday 18th February 5:00pm until 6:00pm