Up and coming tennis star, not just best of Berkshire but aims to conquer the world
12th November 2013
... Comments
---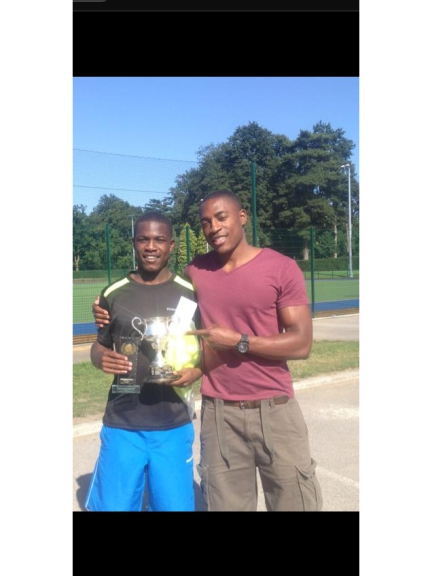 Ranked 1st in Berkshire U18,Rohan Wattley came through the ranks with nothing but determination and self belief helping him win many events.Having been interested in sport from a young age Rohans father encouraged him to put his talents to the test by signing him up to Farnham royal cricket team- whereby his best friend was the coach.Incidentally he became interested in the sport of which my Dad's friend's (George) daughter played; tennis.
From the age of 10 until the age of 12 he played tennis and George realised that he should be playing tennis rather than cricket due to interest he showed in the sport. George taught him everything he needed to know. From 12 he started playing for Slough tennis club.He progressed from slough, to Windsor tennis club where I started to play competitively.Andy is another coach that helped him.
In 2009 George passed away and it was a big shock to Rohan and affected him deeply. He remembers him today, like him telling him what to do and how to do it. Since then Rohan has carried on teaching himself everything George taught him.
Rohan :"Though I am extremely passionate about the sport, I compete and turn up to every training session (mentally) because I have the 'why' to why I want to be successful. I am doing this for George. Not many people know that, so when I could be down in a match by a set and many spectators think I have lost before the match is over, they are shocked by the comebacks I can produce".
Over the past 12 months Rohan competed in numerous events.
• Ranked 1 in Berkshire u18
• In February I qualified for the Men's super-series where I progressed through to the quarter finals.
• Under 18'sdoubles finalist at Gerrads Cross Junior Tournament
• Riverside Norwood Singles Finalist.
• Pre-Qualification for the Men's AEGON British Tour
• Great Missenden u18 singles Semi finalist
• Esher Junior Open singles semi finalist
• Quarter finalist in the Windsor open (Men's)
• Gerrads Cross Bonus Event Winner u18.
• Berkshire County Champion u18
• National events where I have played well to reach the first few rounds
• Ranked inside the top 15 u18 within the Region
• Represented Berkshire in the U18 AEGON County Cup.
He reached the number one spot in Berkshire through hard work and determination.Every match he plays, he 'competes' meaning he don't ever back down and has a strong work ethic which he think has allowed him to reach the number one spot in Berkshire. Rohan is looking to go to American Scholorship next year.