Aladdin pantomime in Shrewsbury
Frankwell Quay
Shrewsbury
Shropshire
SY3 8FT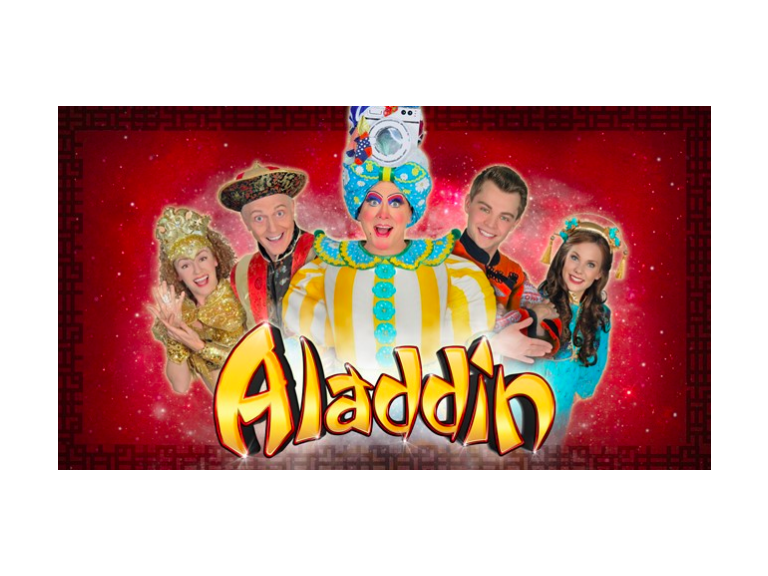 Don't miss this year's spectacular, fun-filled, family pantomime, ALADDIN! Starring the brilliant BRAD FITT, BBC Radio Shropshire's legendary ERIC SMITH, Shrewsbury favourite VICTORIA McCABE, and direct from the National Theatre, KATE
Shrewsbury pantomine 2019
Shropshire's BIGGEST pantomime will be written by PAUL HENDY and is brought to you by EVOLUTION, the same creative team behind last year's smash hit Mother Goose.
Last year's show was seen by over 42,000 people, so book now to avoid disappointment and get ready for your fabulous flying-carpet adventure!
'UTTERLY AMAZING... A TRULY GREAT SHOW!' loveshrewsbury.com
'ANOTHER TRIUMPH… BRILLIANTLY TIMED COMEDY!' shropshirelive.com
'I LAUGHED MY SOCKS OFF!' Shropshire What's On
'BRILLIANT!' Shropshire Star
£26 - £15.50 | FRIENDS 10% OFF
Group discounts available on selected performances. Enquire at Box Office.
Children under 2? Discounted tickets are available via telephone or in person.

SIGNED PERFORMANCE | Wednesday 8 January 2020, 6pm
Presented with British Sign Language (BSL) to aid hearing impaired audiences
STAGETEXT PERFORMANCE | Thursday 9 January 2020, 6pm
Stagetext is a visual text box to aid hearing impaired audiences
RELAXED SPACE now available alongside all performances. Suitable for audiences who find any elements of the live performance environment uncomfortable and need to leave the auditorium. Our relaxed space is equipped with comfortable seating and live footage of the performance on screen, so you can continue watching the show if you wish.
Future dates
Tuesday 10th December 10:15am until 9:00pm
Wednesday 11th December 10:15am until 9:00pm
Thursday 12th December 10:15am until 9:00pm
Friday 13th December 10:15am until 9:00pm
Saturday 14th December 10:15am until 9:00pm
Sunday 15th December 10:15am until 9:00pm
Monday 16th December 10:15am until 9:00pm
Tuesday 17th December 10:15am until 9:00pm
Wednesday 18th December 10:15am until 9:00pm
Thursday 19th December 10:15am until 9:00pm
Friday 20th December 10:15am until 9:00pm
Saturday 21st December 10:15am until 9:00pm
Sunday 22nd December 10:15am until 9:00pm
Monday 23rd December 10:15am until 9:00pm
Tuesday 24th December 10:15am until 9:00pm
Wednesday 25th December 10:15am until 9:00pm
Thursday 26th December 10:15am until 9:00pm
Friday 27th December 10:15am until 9:00pm
Saturday 28th December 10:15am until 9:00pm
Sunday 29th December 10:15am until 9:00pm
Monday 30th December 10:15am until 9:00pm
Tuesday 31st December 10:15am until 9:00pm
Wednesday 1st January 10:15am until 9:00pm
Thursday 2nd January 10:15am until 9:00pm
Friday 3rd January 10:15am until 9:00pm
Saturday 4th January 10:15am until 9:00pm
Sunday 5th January 10:15am until 9:00pm
Monday 6th January 10:15am until 9:00pm
Tuesday 7th January 10:15am until 9:00pm
Wednesday 8th January 10:15am until 9:00pm
Thursday 9th January 10:15am until 9:00pm
Friday 10th January 10:15am until 9:00pm
Saturday 11th January 10:15am until 9:00pm
Sunday 12th January 10:15am until 9:00pm