Scott Smith doubles up at The Shrewsbury Open
Wheelchair tennis ace Scott Smith, the joint organiser of The Shrewsbury Open, impressively won both the singles and doubles in the main draw as the popular event, supported by the Tennis Foundation, attracted a record entry of players.
A successful tournament
Val Fisher, who organised the successful tournament at The Shrewsbury Club with Smith, hailed the achievements of her Shropshire Wheelchair Tennis group colleague as he showed his class to overcome a strong field.
Smith, from Wolverhampton, plays twice a week at The Shrewsbury Club, so made the most of being in familiar surroundings to win both of the main competitions, teaming up with John Lambert to claim the doubles crown after earlier powering his way to victory in the singles.
More winners
The Shropshire Wheelchair Tennis group also provided the weekend's other winners, with Deena Webster, from Grinshill, victorious in the Novice competition, while Market Drayton's Sam Eardley beat Shrewsbury's Kevin Drake in the Mixed competition of the tournament, which is part of the Wheelchair Tennis Development Series.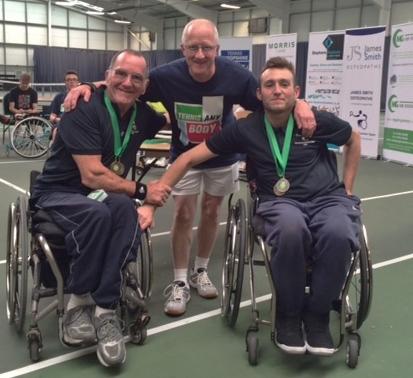 Above: Bob Kerr, centre, the chairman of Tennis Shropshire, congratulates doubles champions John Lambert, left, and Scott Smith, who also took the singles title at The Shrewsbury Open.
An amazing tennis player
Val said: "Scott's an amazing young man and an amazing tennis player. It was lovely to have so much record local success with the weekend's other winners too.
"We had players from as far afield as Scotland and Portsmouth supporting the event, which was great. They have become wonderful friends as well as participants and help make the tournament the success it continues to be at a really super venue in The Shrewsbury Club.
"The tournament was the best we've ever held, simply fantastic, and we had a record entry of 40 players.
"Carol Dyer from Thomas Telford School once again organised a ball crew and children worked so hard all weekend. They were with us all day on both Saturday and Sunday, so we're very grateful to them as they helped make it a very special weekend for us."
Famous guests
Liz Terry, the disability competitions manager for the Tennis Foundation, attended the tournament while other guests included Tennis Shropshire chairman Bob Kerr and vice-chairman Simon Jones.
The Shrewsbury Open has been named British tournament of the year in two of the last three years and is part of a series of wheelchair tennis tournaments held around the UK, from Belfast to Scotland and many English towns and cities.