How to hire a cleaner in Shrewsbury to suit your home and budget
Do you need help in your home but are not sure where or how to start looking for a cleaner?
Modern life is busy – we have demanding jobs, demanding relationships, demanding children and demanding social lives. Magazines lie and tell us we can "have it all", have a healthy work/life balance and stay on top of this game called life?
Stresssssssssssssss. Amirite?!
So, if you're drowning in chores, can't remember the last time you saw the bottom of your washing or ironing pile, or you are frightened to look behind and under things in your home for fear of what you'll see, it may be time to get some help and take some pressure off.
Before a cleaner picks up a duster in your home, do these three things:
1.     Know Your Wants From Your Needs
Okay, so you want the kitchen, bathroom, all three beds stripped/re-made and the bedrooms cleaned, the lounge dusted, polished and vacuumed, the downstairs WC cleaned, the paint work wiped, 5 shirts ironing and all the floors mopped but you only want to pay for 2 hours
Yeah, that's not going to happen…
You are either going to get half a job or a lick-and-a-promise of a job. This won't be what you want I'm guessing, and I promise you it's not what a good cleaner wants to give you
So, you know your weekly/monthly budget, you just now need to know 'what are the really important tasks that need to be done?' – what are the tasks that would really lift a load from your shoulders that is realistic to your budget?
If budget is not a worry, go nuts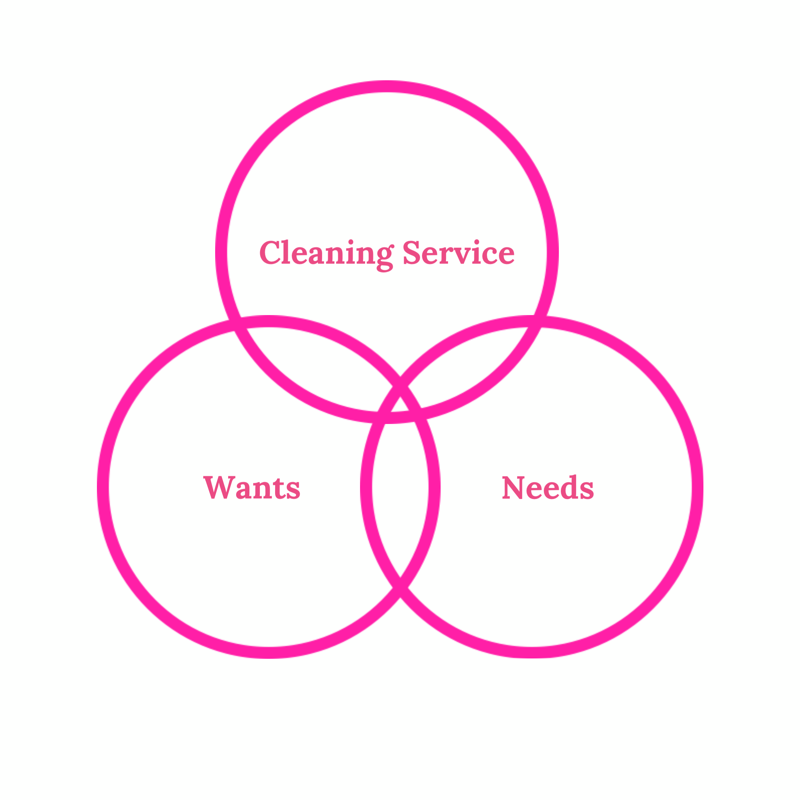 2.     Research Like You're Miss Marple!
Whether you are looking for a dog groomer, a nail tech or a cleaner you should always do your homework before you let folks have access to you and your home!
With the wonderful world of the web, you don't even have to leave your chair to do this detective work – hoorah!
 Use search engines to type in what you are looking for and in what area, then have a look at the websites that come up for your area (note: the top 3 or 4 are paid for ads)
Then, if you find a website you like the look of, go ahead and check out any Facebook, Twitter, or Instagram pages they may have - How does their online presence look? What types of things do they post about? Do they seem friendly and professional? Do they interact with their audience?
You can find out a lot about a person/business from the internet – does the business you are looking at relate to you? Do you like how they write/interact? Do they provide value to their online visitors? Do they feel trustworthy?
3.     Interview The Cleaning Service
Any cleaning service worth their salt should (and would be happy to) answer any question you throw at them regarding their service.
Don't be afraid to draw up a list of questions for when the cleaning service comes to do their house visit (quote)
You could ask things like:
1. How long have you been trading?
2. Who does the work, you or do you have staff?
3. How do you train and vet your staff?
4. Have you ever had to claim made against your insurance by a client?
5. What do I do if I ever have a problem or am not happy with an element of your service?
You have worked hard on your home, to decorate and furnish it over the years and you should have a cleaning service that respects this. Cheaper is not always better, just as it isn't with shoes or furniture or any other thing that is a false economy thought process – you want to know you have the RIGHT cleaning service that understands what you want and can deliver it, professionally, consistently, and as agreed.
Please see our latest special offer for how you can get more help in your home for less (link to voucher)
Find out more about Mrs Mopp – www.mrsmopp.com
Come say hello on Instagram, Facebook or Twitter – Search: MrsMoppUK