Two Billion Beats by Sonali Bhattacharyya
1 Clarence Street
TW9 2SA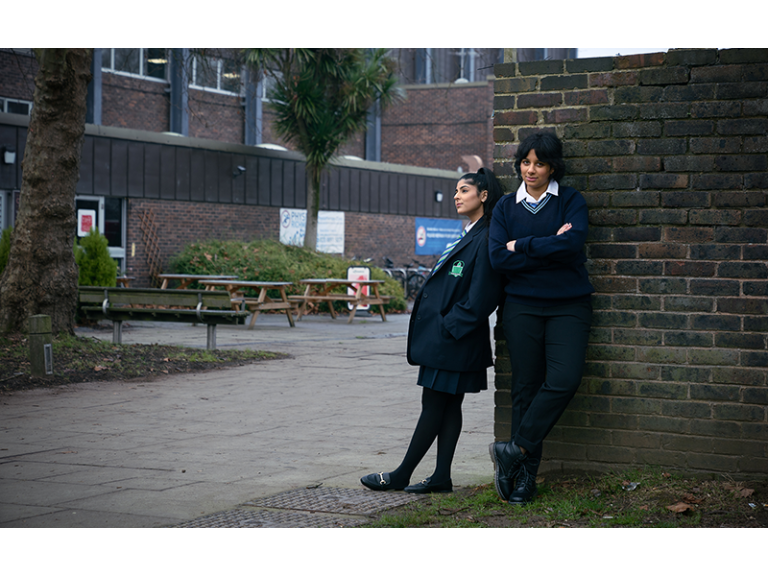 Seventeen-year-old Asha is an empathetic rebel, inspired by historical revolutionaries and iconoclasts Sylvia Pankhurst and B R Ambedkar. She's unafraid of pointing out the hypocrisy around her but less sure how to actually dismantle it. Meanwhile, her younger sister, Bettina, wide-eyed and naïve, is just trying to get through the school day without getting her pocket money nicked. When Bettina turns to her for help, Asha starts to ask what standing up for her political beliefs really looks like. The return of this exhilarating production following its acclaimed world premiere at the OT in 2022.
★★★★ "Moving portrayal of sisterly love…I'd defy anyone to remain unmoved" The Guardian
★★★★ "Sonali Bhattacharyya has struck gold with this incredibly important play" Theatre Weekly
★★★★ "This timely and thoughtful new play from Sonali Bhattacharyya…compellingly shows that the stakes can be high when people – especially women – from a diaspora community raise their voices" WhatsOnStage
★★★★ "Confidently drawn two-hander that probes injustices, both domestic and colossal" The Stage
Bouncing with wit, Sonali Bhattacharyya's upbeat play is a coming-of-age story about the unfairness of growing up in a world where you don't make the rules. Sonali Bhattacharyya was 2018 Channel 4 writer in residence at the OT, where she wrote Chasing Hares, winning the Sonia Friedman Production Award and Theatre Uncut Political Playwriting Award, produced at the Young Vic in 2022.
Directed by Nimmo Ismail, whose work includes Glee & Me by Stuart Slade and The Christmas Star by Russell T Davies (both Royal Exchange Manchester), Fragments by Cordelia Lynn and My England by Somalia Seaton (both at Young Vic), and SNAP by Danusia Samal (The Old Vic).
All performances are at full capacity unless otherwise stated. We ask you to please consider wearing a mask when joining us for a performance, to protect the actors and reduce risk of cancellations, however it is not a requirement of entry. Find out more about COVID-19 Safety. 
Future dates
Saturday 21st January 7:30pm until 9:00pm
Monday 23rd January 7:30pm until 9:00pm
Tuesday 24th January 7:00pm until 8:30pm
Wednesday 25th January 7:30pm until 9:00pm
Thursday 26th January 2:30pm until 4:00pm
Thursday 26th January 7:30pm until 9:00pm
Friday 27th January 7:30pm until 9:00pm
Saturday 28th January 7:30pm until 9:00pm
Monday 30th January 7:30pm until 9:00pm
Tuesday 31st January 7:30pm until 9:00pm
Wednesday 1st February 7:30pm until 9:00pm
Thursday 2nd February 2:30pm until 4:00pm
Thursday 2nd February 7:30pm until 9:00pm
Friday 3rd February 7:30pm until 9:00pm
Saturday 4th February 2:30pm until 4:00pm
Saturday 4th February 7:30pm until 9:00pm