Grim Brenda by Ross Willis
Orange Tree Theatre,
1 Clarence Street,
Richmond,
Surrey
TW9 2SA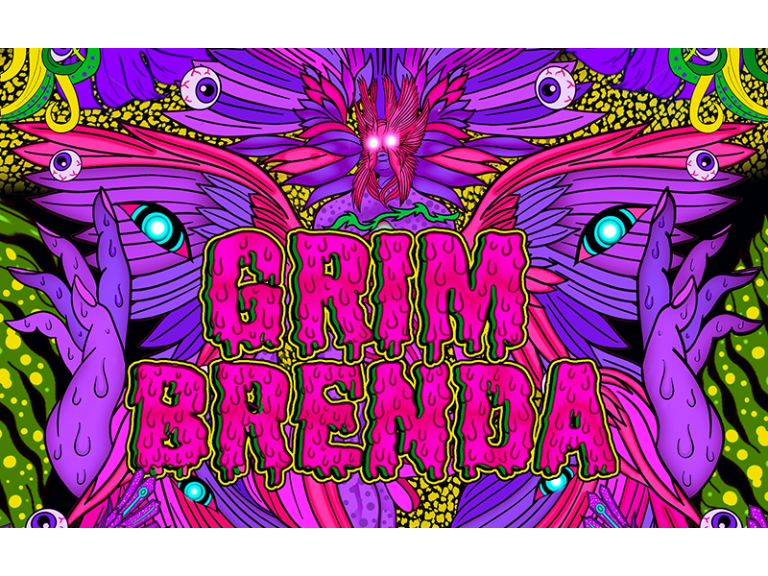 Brenda hasn't been touched in 500 years, let alone asked how she is. It's tough being the Angel of Death. Blessed with a secret talent for loneliness. It's just settled in her soul without her even noticing. The phone doesn't ring. The house is empty. There's nobody to wait up for. But news of a missing soul is about to trigger an epic wild adventure that will teach her many things about family life, appropriate work-place relationships and humanity.
An extraordinary play soaked in myth and magic, full of laughter with a beating and bruised heart. Grim Brenda brings together award-winning playwright Ross Willis and director Ned Bennett for a stunning exploration of love, loss and life.
This exciting co-production between OT and the Olivier Award Winning Francesca Moody Productions (Fleabag, Baby Reindeer) marks the final show in Paul Miller's outgoing season as Artistic Director.
Ross Willis' debut play Wolfie was named Best New Play at the Writers' Guild Awards and the Off-West End Awards 2020. His follow-up, Wonder Boy, debuted at Bristol Old Vic in March 2022 to critical acclaim. Ross was awarded the Channel 4 Playwright in Residence where he has spent a year on attachment at the Orange Tree.
Ned Bennett returns to the OT following Pomona and An Octoroon both which transferred to the National Theatre and for which Ned was awarded the Off West End Award for Best Director. He was awarded the UK Theatre Award for Best Director for Pomona and Yen with the Royal Exchange Theatre. He won the Off West End's Best Director Award for a third time for Equus with English Touring Theatre and Theatre Royal Stratford East.
"Ross Willis is a fresh and fearless voice, clearly itching to test the boundaries of theatre" Evening Standard on Wolfie
"Ripping up the rule book... Ned Bennett meets the audaciousness of the writing with a reckless bravura all his own" New York Times on An Octoroon

All performances are at full capacity unless otherwise stated. We ask you to please consider wearing a mask when joining us for a performance, to protect the actors and reduce risk of cancellations, however it is not a requirement of entry. Find out more about COVID-19 Safety. 
Future dates
Monday 20th February 7:30pm until 9:30pm
Tuesday 21st February 7:30pm until 9:30pm
Wednesday 22nd February 7:30pm until 9:30pm
Thursday 23rd February 2:30pm until 4:30pm
Thursday 23rd February 7:30pm until 9:30pm
Friday 24th February 7:30pm until 9:30pm
Saturday 25th February 7:30pm until 9:30pm
Monday 27th February 7:30pm until 9:30pm
Tuesday 28th February 7:30pm until 9:30pm
Wednesday 1st March 7:30pm until 9:30pm
Thursday 2nd March 2:30pm until 4:30pm
Thursday 2nd March 7:30pm until 9:30pm
Friday 3rd March 7:30pm until 9:30pm
Saturday 4th March 2:30pm until 4:30pm
Saturday 4th March 7:30pm until 9:30pm
Monday 6th March 7:30pm until 9:30pm
Tuesday 7th March 7:30pm until 9:30pm
Wednesday 8th March 7:30pm until 9:30pm
Thursday 9th March 2:30pm until 4:30pm
Thursday 9th March 7:30pm until 9:30pm
Friday 10th March 7:30pm until 9:30pm
Saturday 11th March 2:30pm until 4:30pm
Saturday 11th March 7:30pm until 9:30pm
Monday 13th March 7:30pm until 9:30pm
Tuesday 14th March 7:30pm until 9:30pm
Wednesday 15th March 7:30pm until 9:30pm
Thursday 16th March 2:30pm until 4:30pm
Thursday 16th March 7:30pm until 9:30pm
Friday 17th March 7:30pm until 9:30pm
Saturday 18th March 2:30pm until 4:30pm
Saturday 18th March 7:30pm until 9:30pm