Arms and the Man by Bernard Shaw
1 Clarence Street
TW9 2SA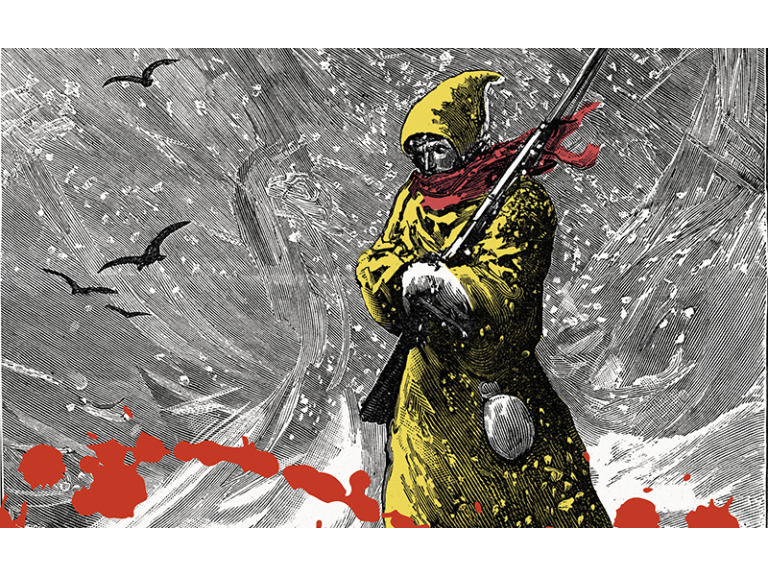 In the midst of a bloody central European war, a chance moonlit encounter throws together an idealistic young woman and a Swiss mercenary with an unexpectedly realistic attitude to soldiering. Raina's youthful love for Sergius, the swashbuckling fighting hero of the Bulgarian army, is challenged when she learns more of the realities of war. Bluntschli's coolly ironic good sense starts to seem more like the future. When Louka, the servant of the family with a spirit and ambition all of her own, sets her sights on Sergius, the stage is set for an epic moral battle.
Paul Miller directs in his final production as Artistic Director of the Orange Tree. It follows his lauded rediscoveries of Shaw's other early plays Overruled, How He Lied to Her Husband, Candida, Misalliance, The Philanderer, and Widowers' Houses.
"Paul Miller's production, which shows a rare understanding of Shaw, itself has the sparkle of vintage fizz" The Guardian on Candida
"A comedy that's brought to fizzing life by Orange Tree artistic director Paul Miller" Time Out on The Philanderer
"A treasurable, scintillating gem" The Telegraph on Misalliance
"A witty, spirited and timely revival" The Independent on Widowers' Houses
All performances are at full capacity unless otherwise stated. We ask you to please consider wearing a mask when joining us for a performance, to protect the actors and reduce risk of cancellations, however it is not a requirement of entry. Find out more about COVID-19 Safety. 
Future dates
Monday 21st November 7:30pm until 9:30pm
Tuesday 22nd November 7:30pm until 9:30pm
Wednesday 23rd November 7:00pm until 9:00pm
Thursday 24th November 7:30pm until 9:30pm
Friday 25th November 7:30pm until 9:30pm
Saturday 26th November 2:30pm until 4:30pm
Saturday 26th November 7:30pm until 9:30pm
Monday 28th November 7:30pm until 9:30pm
Tuesday 29th November 7:30pm until 9:30pm
Wednesday 30th November 7:30pm until 9:30pm
Thursday 1st December 2:30pm until 4:30pm
Thursday 1st December 7:30pm until 9:30pm
Friday 2nd December 7:30pm until 9:30pm
Saturday 3rd December 2:30pm until 4:30pm
Saturday 3rd December 7:30pm until 9:30pm
Monday 5th December 7:30pm until 9:30pm
Tuesday 6th December 7:30pm until 9:30pm
Wednesday 7th December 7:30pm until 9:30pm
Thursday 8th December 2:30pm until 4:30pm
Thursday 8th December 7:30pm until 9:30pm
Friday 9th December 7:30pm until 9:30pm
Saturday 10th December 2:30pm until 4:30pm
Saturday 10th December 7:30pm until 9:30pm
Monday 12th December 7:30pm until 9:30pm
Tuesday 13th December 7:30pm until 9:30pm
Wednesday 14th December 7:30pm until 9:30pm
Thursday 15th December 2:30pm until 4:30pm
Thursday 15th December 7:30pm until 9:30pm
Friday 16th December 7:30pm until 9:30pm
Saturday 17th December 2:30pm until 4:30pm
Saturday 17th December 7:30pm until 9:30pm
Monday 19th December 7:30pm until 9:30pm
Tuesday 20th December 7:30pm until 9:30pm
Wednesday 21st December 7:30pm until 9:30pm
Thursday 22nd December 2:30pm until 4:30pm
Thursday 22nd December 7:30pm until 9:30pm
Friday 23rd December 7:30pm until 9:30pm
Saturday 24th December 2:30pm until 4:30pm
Saturday 24th December 7:30pm until 9:30pm
Tuesday 27th December 7:30pm until 9:30pm
Wednesday 28th December 7:30pm until 9:30pm
Thursday 29th December 2:30pm until 4:30pm
Thursday 29th December 7:30pm until 9:30pm
Friday 30th December 7:30pm until 9:30pm
Saturday 31st December 2:30pm until 4:30pm
Saturday 31st December 7:30pm until 9:30pm
Tuesday 3rd January 7:30pm until 9:30pm
Wednesday 4th January 7:30pm until 9:30pm
Thursday 5th January 2:30pm until 4:30pm
Thursday 5th January 7:30pm until 9:30pm
Friday 6th January 7:30pm until 9:30pm
Saturday 7th January 2:30pm until 4:30pm
Saturday 7th January 7:30pm until 9:30pm
Monday 9th January 7:30pm until 9:30pm
Tuesday 10th January 7:30pm until 9:30pm
Wednesday 11th January 7:30pm until 9:30pm
Thursday 12th January 2:30pm until 4:30pm
Thursday 12th January 7:30pm until 9:30pm
Friday 13th January 7:30pm until 9:30pm
Saturday 14th January 2:30pm until 4:30pm
Saturday 14th January 7:30pm until 9:30pm