Richmond upon Thames College's Apprentices Graduate with Flying Colours
On Friday 23 November, nine of Richmond upon Thames College's (RuTC) apprentices, who work at the National Physical Laboratory (NPL), celebrated the end of their apprenticeship programme with a graduation ceremony held at NPL's offices.
During their 12-18 month courses, all of the apprentices were supported by RuTC's specialist employer engagement department, Training Solutions. Seven graduated in Business Administration, one in IT and one in Digital Marketing and they have all been offered positions with NPL. RuTC has now seen 21 apprentices graduate with them.
JT Janssen, NPL's Director of Research, gave the opening speech at the ceremony, followed by Robin Ghurbhurun, Principal and Chief Executive of RuTC. Both spoke highly of the graduates' hard work. Robin Ghurbhurun said, "It was a fantastic event as ever but what really struck me was how impressive our apprentices are and the experience NPL has provided them with."
Amy Woolford, one of RuTC's graduating apprentices whose job role involves Health, Safety, Environment and Security at NPL, said, "During my time at NPL I have been exposed to different sides of the business, which allowed me to choose a path for my career that interests me. Throughout my apprenticeship I earned a salary whilst learning and the bonus is that I found a career that I enjoy. It's amazing the amount of trust NPL has in their apprentices and the support from of our college tutor was incredible. Her dedication meant we all were as successful as we could be."
Finton McCluskey, one of RuTC's graduating apprentices and working at NPL's Quantum project management office, said, "Over the 14 month course, I have learned a great deal about the inner workings of the business, the principles of administration and have built up a network of like-minded colleagues. Richmond upon Thames College has facilitated this greatly; the one-to-one sessions as well as classes at the college itself have proven to be very useful. NPL has now taken me on full-time, extending my contract as administrative support in the Quantum project management office."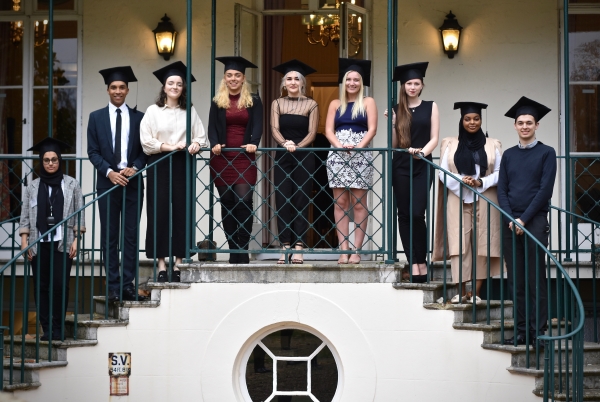 ---
Published for and on behalf of Richmond upon Thames College. All content and images provided courtesy of Richmond upon Thames College.
About Richmond upon Thames College
Richmond upon Thames College (RuTC) is a General Further Education College situated on a single site in Egerton Road, Twickenham and was established as the first tertiary college in the South East of England in 1977. Today the college has approximately 2,000 full-time students aged 16-18 years old and offers these students a wide range of courses and subjects. It also offers a range of adult courses, many leading to professional qualifications and a number of higher education courses.