Richmond upon Thames College Celebrates New Building with Topping Out Ceremony
On Friday 24 May, staff and students from Richmond upon Thames College (RuTC) celebrated the Topping Out Ceremony of its new building, Richmond Building, with their construction partner ISG. Over 100 guests attended the event, including Leader of the Liberal Democrat Party and MP for Twickenham, Sir Vince Cable, the new Richmond Mayor, Nancy Baldwin, and staff from the many companies involved in the new campus project.
Since breaking ground in June 2018, the site is unrecognisable with the building's shell now complete, the Topping Out Ceremony marked this milestone. The ceremony was opened by Robin Ghurbhurun, RuTC's Chief Executive and Principal, who spoke about the journey to date to create a world class post-16 centre of excellence and thanked everyone involved for their commitment and expertise. He said, "The vision was and is to create a flagship college that will not only benefit Richmond borough residents but also become a major careers hub and community destination for students and employers. Colleges are vital in driving social mobility and providing the skills to boost local and regional economies by providing high quality technical and professional education and training for young people, adults and employers."
The Topping Out Ceremony was marked by the tightening of the last bolt. This was carried out by RuTC student Bethannie York. Bethannie studies Photography, History and English A Levels and was chosen for her incredible achievements both in and outside of college. She has been involved in the Honeypot Children's Charity, based in West London, and had the opportunity to visit Downing Street for a meeting with Prime Minister Theresa May. In addition, Bethannie recently received The Diana Award. This award is the most prestigious accolade a young person aged between 9 and 25 years can receive for their social action or humanitarian work. Bethannie was nominated by the college due to her support of the Hounslow Young Carers Project where she has been a member since she was 9 years old. At the moment she is helping to establish a new young carers' charity, which will support children who are young carers.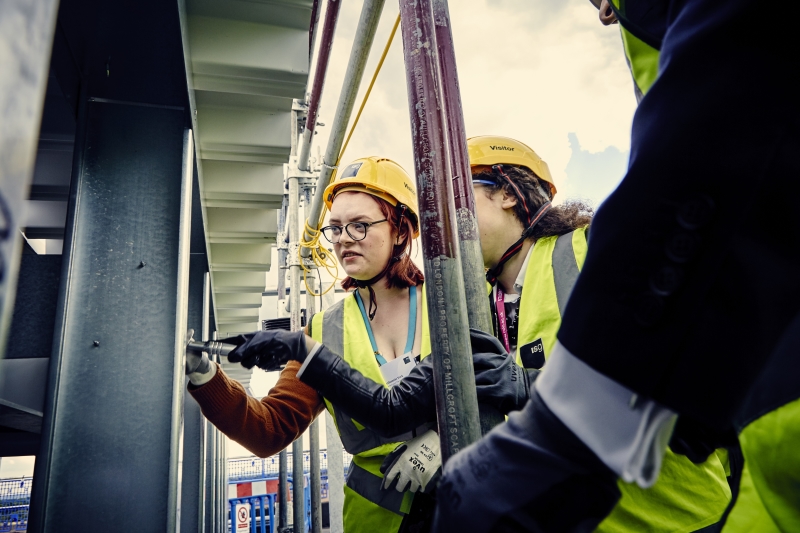 Bethannie York tightening the last bolt as part of the Topping Out Ceremony
Before the tightening of the bolt, the companies involved in the planning and construction of the building gave a short overview of how they became a part of this project, their individual involvement in each phase and the challenges they have overcome to successfully reach this stage. The companies included project management Fusion, Atkins architects, cost managers Faithful+Gould and Pagabo procurement company. Pagabo measured the Social Value of this project and confirmed that £35m of expenditure generates £53m of Social Value. In addition, the construction of the building created 10 new apprenticeships and 41 new jobs and safeguarded 153 jobs.
Sir Vince Cable contributed by saying, "This building is the first step in realising Richmond upon Thames College's vision to turn this college into a centre of excellence for vocational and educational training and apprenticeships in the region and I'm really proud to be associated with the project." He continued, "We have to make sure the further education sector in the UK is properly supported. Post-school education is not just about universities and having a successful further education sector is absolutely critical to the future of the country. I am delighted that the London Borough of Richmond upon Thames is hosting such a forward-thinking project and I would like to say well done to everybody who has been involved in bringing it to fruition."
Steven McGee, Managing Director of ISG's UK Construction South division, said, "A great deal of hard work, creative thinking and collaboration has bought this project to this fantastic milestone. We would like to thank all of our partners who helped us bring this innovative building forward – we are starting to see a truly world-class facility come to life."
"The Richmond Building will act as a beacon for the community, attracting the brightest young academics in the region and the best talent in FE teaching and ISG is already playing its part in that vision. Throughout the course of the project, we have engaged with more than 120 young people to drive employment and upskilling opportunities and have even developed our own Level 3 Diploma in Professional Construction Practice which will be rolled out - in conjunction with the college - from this September. We welcome the engagement from our partners, the college and the local community as we continue to create a legacy in Richmond for generations to come."
The Richmond Building is due for completion early 2020 and students joining the college in September 2019 will be the first cohort to walk through the Richmond Building doors.
---
Issued for & on behalf of Richmond upon Thames College