Music on the menu at new look Richmond PizzaExpress
6th January 2016
... Comments
---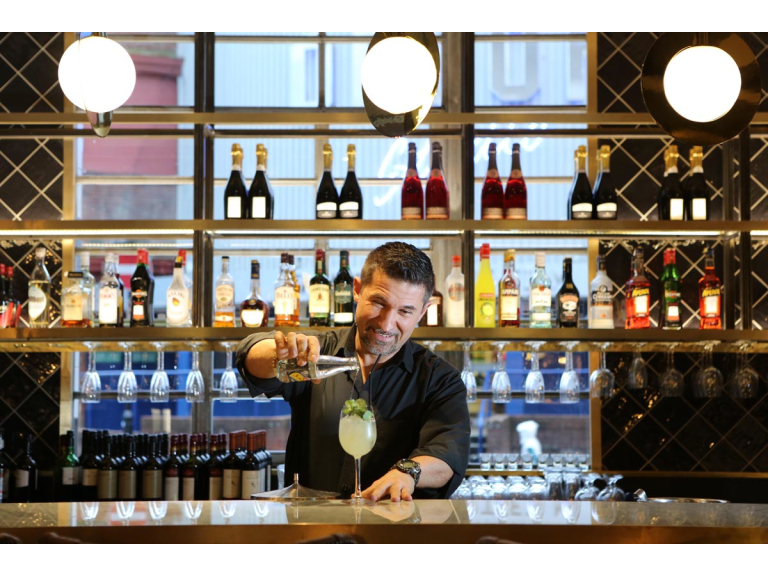 Music is now on the menu at Richmond PizzaExpress following a high profile refurbishment of the restaurant at Lion House in Red Lion Street.
Local bands are to play contemporary music by the new drinks bar, which serves cocktails and draft beer, while customers enjoy their favourite pizza. The live music sessions are on an occasional basis with Jason and The Brogues, of Kingston, the first to play there. Known as the PizzaExpress Live Playlist, the idea was born from the famous sister venue in Soho, celebrating 40 years in music this year.
The Richmond refurbishment celebrates the large 1930's building the restaurant is located in. The lattice window framework is reflected in the internal screens, and brass trim details, dark oak panelling and rich green walls create a sophisticated, classic feel.
Manager, Kristina Puodziukaityte, said, "We love our restaurant's new look and have a friendly and enthusiastic team who are looking forward to welcoming everyone to listen to live music while eating a delicious pizza."
PizzaExpress has been dishing up fresh, handmade pizza to Richmond since 1993. The new look coincides with the launch an exciting new menu, including Calamari and Risotto Mio as starters, an addition to the 'Al Forno' range, the Pennette Bolognese, and a new Formaggi 65 pizza cheese delight. Among the new desserts are Bombolini, small doughnut balls with a jam centre, served with gelato, and Salted Caramel Profiteroles Dolcetti.
For younger pizza-lovers, PizzaExpress' Piccolo menu is full of tasty choices including 'Create Your Own' pizza, and starts at just £3.95.
For more details  visit our website.