Have a happy – and safe – Halloween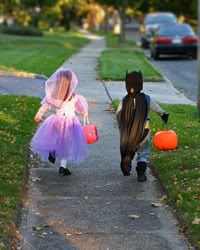 Teenagers who think Halloween gives them free rein to annoy neighbours and play anti-social pranks are being warned they risk coming up against the law. The message is clear: Behave yourselves, don't spoil the festivities for the younger children taking part, or cause a nuisance in your neighbourhood.
Sir David Williams, Cabinet Member for Communities on Richmond Council, said:
"With the evenings drawing in so quickly at this time of year, the welfare of children and older people while out and about is of the utmost importance.
"It is important to remember that while many residents of all ages look forward to Halloween, there are also a substantial number who prefer to be left out of the festivities.
"Our advice is: Don't take risks, think of your neighbours, follow the Halloween code - and have a happy Halloween."
Additional police patrols will be on duty throughout the evening to provide support for members of the public who are out and about.
Richmond Police Borough Commander, Rick Turner, said:
"Trick or treat is for very young persons accompanied by their parents - not teenagers or, of course, adults.
"It is everybody's right not to be disturbed by Trick or Treaters if they so wish.
"Do not knock on someone's door if they indicate they do not want callers. Police will take a dim view of this antisocial behaviour.
"Common assault, threats of violence or anti social behaviour may result in arrest and prosecution."
Richmond Borough Police's number for non-emergency calls is 020 8607 9199. In an emergency call 999.

The Halloween Code
Never go Trick or Treating without an adult
Only go to houses where you, your friends or your parents know the residents
Don't knock on doors where there is a "No trick or treat" sign on display
Always carry a torch and stay within areas that are well-lit
Stay with your friends - don't split into smaller groups unless an adult goes with you
Don't talk to strangers on the street
Don't enter anybody's house - always stay on the doorstep in the light
Be careful not to frighten anybody, such as the elderly or those younger than you
Be visible at all times so that road users can always see you
Look carefully when crossing the road, even when you're part of a group