Diana Award for Richmond upon Thames College Student Bethannie York
Richmond upon Thames College (RuTC) is delighted to announce that local student Bethannie York has been chosen to receive a 2019 Diana Award for her outstanding social achievements in and outside of college.
Established in memory of Diana, Princess of Wales, The Diana Award is the most prestigious accolade a young person aged between 9 and 25 years can receive for their social action or humanitarian work. It is the longest running award for young people that is given to individuals and groups through a retrospective nomination process only.
Bethannie studies Photography, History and English A Levels at RuTC. Due to her involvement in the Honeypot Children's Charity, based in West London, she recently had the opportunity to meet with Prime Minister Theresa May at Downing Street. Honeypot works towards enhancing lives of young carers and vulnerable children. In addition, Bethannie supports the Hounslow Young Carers Project, which earned her The Diana Award nomination.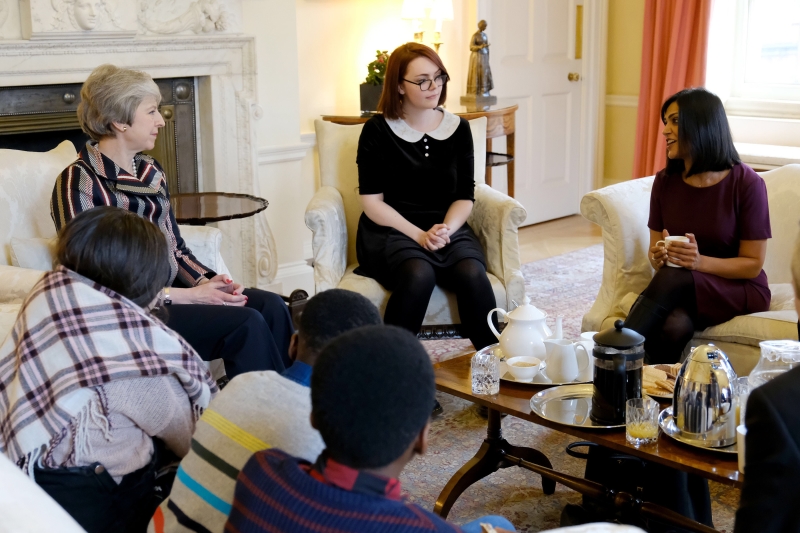 Bethannie with Prime Minister Theresa May
About her involvement with the project, Bethannie says, "Through working 1:1 with vulnerable young carers, as well as watching young carers blossom into incredible people, my work with the Hounslow Young Carers Project has been inspiring. Having been a member of the project since the age of 9 and having first-hand experience, the importance of caring organisations for vulnerable young people across the country is immeasurable. This is why I am helping to establish a new young carers' charity, to help support young people in their hour of need. Every child should have the chance to be exactly that, a child."
Sharon Cousins, Assistant Principal Student Experience at RuTC, says, "We believe Bethannie's achievement is very special. Young people do not work towards the award, rather they demonstrate their suitability through their actions, without any expectation of reward. Bethannie was nominated for her work with the Hounslow Young Carers Project, and her own caring role at home, plus her fundraising and awareness raising activities for the Honeypot Children's Charity."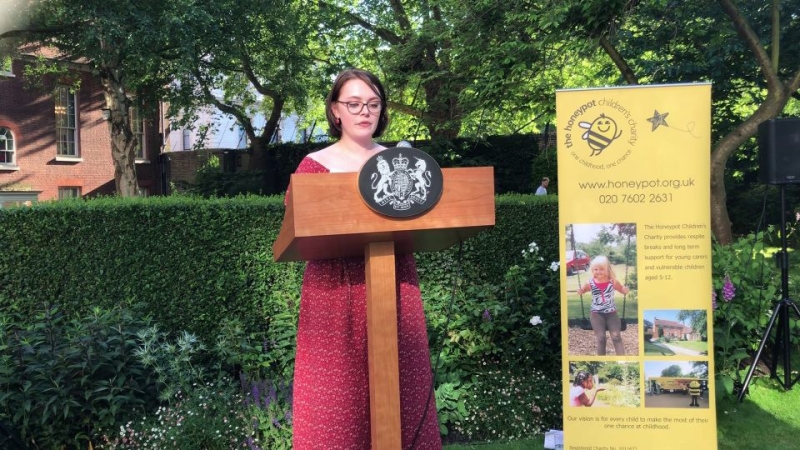 Bethannie addressing the public about her work for Honeypot and Hounslow Young Carers Project.
Bethannie will officially be included in the award scheme's 'Roll of Honour' on Monday 1 July 2019 and will receive the award at a ceremony later this year.
---
Issued for & on behalf of Richmond upon Thames College