Best Learner Award for Richmond upon Thames College Student Ian Canlas
12th June 2019
... Comments
---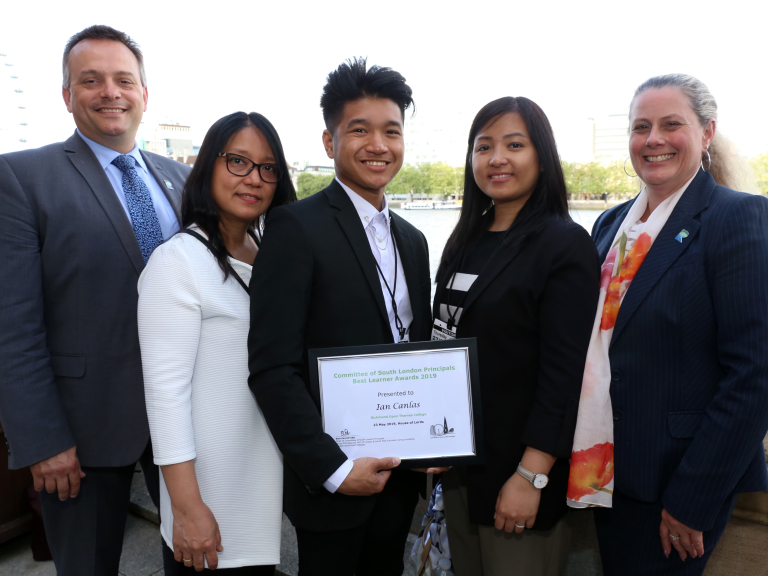 Ian Canlan with his award
On Thursday 23 May, Richmond upon Thames College (RuTC) student Ian Canlas was awarded with the Best Learner Award at the House of Lords.
Every year, Richmond upon Thames College (RuTC) nominates an outstanding student for the Best Learner Award. Ian stood out among other students due to his impressive development. Although not being an English native speaker, he gained distinction grades in Level 2 UAL Diploma in Art and Design course. Through hard work, Ian then progressed onto Level 3, gaining distinction grades again.
Sharon Cousins, Assistant Principal Student Experience at RuTC, said, "At each stage of his studies Ian has pushed himself to develop creatively. He is superbly organised, responds actively and immediately to tutorial advice and always seeks to deepen his understanding. He takes part in peer work supporting others and sharing his knowledge. Richmond upon Thames College is proud to see a student like Ian succeed on such a great scale."
About his win, Ian said, "Receiving the Best Learner Award is a great honour and I am really proud of this achievement. I am the first one in my family who can pursue a higher education and although it is hard work, I am thankful for Richmond upon Thames College's support. I am able to pursue my goals of high grades and to study architecture at university."
Currently, Ian is pursuing an architecture pathway and will continue his studies at the University of Kent from September 2019, where he will also receive a £2000 scholarship towards his tuition fees.
---
Issued for & on behalf of Richmond upon Thames College