Jingle your bells and sign up for our Santa Stroll
22nd November 2012
... Comments
---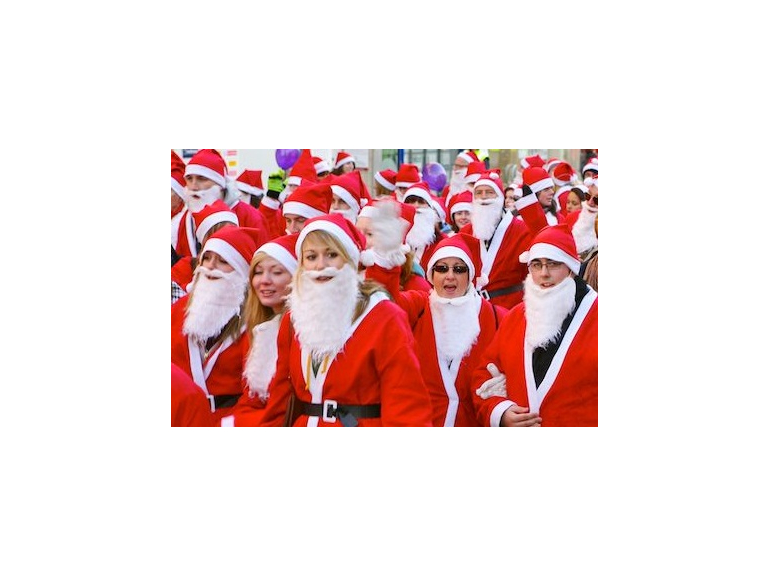 Come along and join in the festive fun on Sunday the 9th of December and sign up for our 1 mile sponsored Santa Stroll with everyone dressed as Santa Claus following  the real Santa in his sleigh around Nottingham City Centre.  Come with a group of friends or come with all your family, as this jovial event is suitable for all ages young and old. Here are 5 reasons why you shouldn't miss out...
1) It's a great way to get you in a festive mood in time for Christmas and it's great fun too. You will be joining a multitude of other people dressed as Santa and you will be following Santa in his sleigh accompanied by festive music along the way.
2) Your entry fee includes a Santa Suit*, a hot drink/juice and bacon roll (a vegetarian option is available) and a finishing certificate. Entry is £12.50 for adults and £7.50 for children under 13 and under 5's are free. * Santa Suits are provided subject to availability except for under 5's who can come along for free. Group Discounts are available –see website for details www.nottshospice.org/santastroll for more details.
3) You can treat your family to a great day out. The Santa Stroll starts and finishes at Old Market Square Nottingham which will be transformed by the City Council into a Winter Wonderland. The site will be dressed with snow and 150 Christmas trees, and there will be a giant 60 foot Christmas tree too. The Victorian market will be back and there will be fairground rides as well.
4) After registering your arrival for the Santa Stroll at The Council House, Old Market Square you will assemble outside and be treated to some Christmas music courtesy of the Bestwood Welfare Black Diamonds [http://www.bestwoodband.org.uk].
5) You will be helping seriously ill people and their families at Christmas time by supporting this Nottinghamshire Hospice fundraising event. Nottinghamshire Hospice is not part of the NHS and so we need to raise £2 million each year from charitable activities to continue to provide our services FREE of charge to our patients and families.
SIGN UP HERE http://www.nottshospice.org/SantaStrollOnlinePayment  
Pre-registration is essential. You can sign up securely online via the link above and pay via Paypal or you can download a form from the same webpage and send us your registration form and entry fee. Please help us spread the word about this fun and festive event by downloading a poster and putting it up at your place of work, local shop, notice board or simply e-mail it to your friends and family.
DOWNLOAD A SANTA STROLL POSTER HERE http://www.nottshospice.org/NottinghamshireHospiceNews/Download_an_events_poster