AR Krav Maga Self-defence Training - 3 Trial Classes
Breckland Hall,
Breckland Road,
Costessey,
Norwich,
NR50RW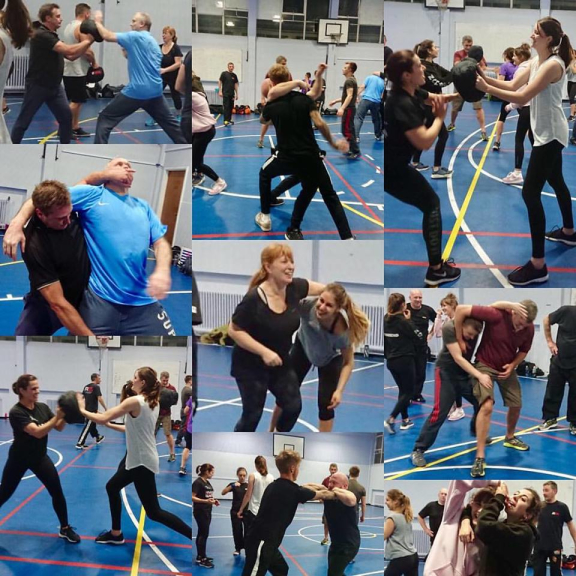 3 Trial Class Programme. AR Krav Maga is a Fun and Ego free local self-defence club in Norwich where like-minded people exercise together to achieve their fitness and personal safety training goals; so how do you improve, have fun, make new friends and learn how to become Safer, Fitter, Smarter and Always Ready.  The answer is simple, join us!
Come and join us at one of the four classes we cover in Norwich. Learn about Krav Maga Self Defence and get fit doing it. Meet the instructors and see what our club has to offer. We will even throw in a FREE t-shirt if you decide to join us - no obligations or commitments need to be made.
Learn "Krav Maga Self Defence" and go home Safer, Fitter, Smarter & Always Ready. 
We are ThreeBestRated Top 3 martial art self-defence schools in Norwich for the last 3 years. 
Future dates
Monday 28th January 7:00pm until 8:30pm
Monday 4th February 7:00pm until 8:30pm
Monday 11th February 7:00pm until 8:30pm
Monday 18th February 7:00pm until 8:30pm
Monday 25th February 7:00pm until 8:30pm
Monday 4th March 7:00pm until 8:30pm
Monday 11th March 7:00pm until 8:30pm
Monday 18th March 7:00pm until 8:30pm
Monday 25th March 7:00pm until 8:30pm
Monday 1st April 7:00pm until 8:30pm
Monday 8th April 7:00pm until 8:30pm
Monday 15th April 7:00pm until 8:30pm
Monday 22nd April 7:00pm until 8:30pm
Monday 29th April 7:00pm until 8:30pm
Monday 6th May 7:00pm until 8:30pm
Monday 13th May 7:00pm until 8:30pm
Monday 20th May 7:00pm until 8:30pm
Monday 27th May 7:00pm until 8:30pm
Monday 3rd June 7:00pm until 8:30pm
Monday 10th June 7:00pm until 8:30pm
Monday 17th June 7:00pm until 8:30pm
Monday 24th June 7:00pm until 8:30pm
Monday 1st July 7:00pm until 8:30pm
Monday 8th July 7:00pm until 8:30pm
Monday 15th July 7:00pm until 8:30pm
Monday 22nd July 7:00pm until 8:30pm
Monday 29th July 7:00pm until 8:30pm
Monday 5th August 7:00pm until 8:30pm
Monday 12th August 7:00pm until 8:30pm
Monday 19th August 7:00pm until 8:30pm
Monday 26th August 7:00pm until 8:30pm
Monday 2nd September 7:00pm until 8:30pm
Monday 9th September 7:00pm until 8:30pm
Monday 16th September 7:00pm until 8:30pm
Monday 23rd September 7:00pm until 8:30pm
Monday 30th September 7:00pm until 8:30pm
Monday 7th October 7:00pm until 8:30pm
Monday 14th October 7:00pm until 8:30pm
Monday 21st October 7:00pm until 8:30pm
Monday 28th October 7:00pm until 8:30pm
Monday 4th November 7:00pm until 8:30pm
Monday 11th November 7:00pm until 8:30pm
Monday 18th November 7:00pm until 8:30pm
Monday 25th November 7:00pm until 8:30pm
Monday 2nd December 7:00pm until 8:30pm
Monday 9th December 7:00pm until 8:30pm
Monday 16th December 7:00pm until 8:30pm
Monday 23rd December 7:00pm until 8:30pm
Monday 30th December 7:00pm until 8:30pm
Monday 6th January 7:00pm until 8:30pm