BADMINTON CLUB GROWS AND MOVES TO A NEW HOME WITH HELP FROM REDROW
5th November 2019
... Comments
---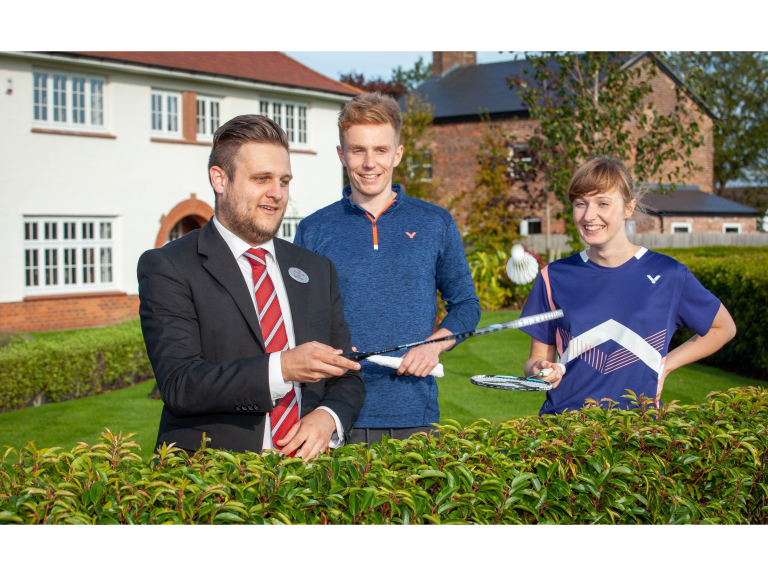 Redrow's Tom Ross-Gower enjoys a badminton lesson from Olivia Frankland and Dominic Ashton, of Hartford Badminton Academy
A badminton club has moved into a new home to accommodate an increase in people in West Cheshire playing the sport.
Hartford Badminton Academy, previously known as Weaverham Badminton Club, relocated from Weaverham Community Centre to the £6 million sports centre at The Grange School.
The move was made possible thanks in part to support from Redrow's Hartford Community Fund, which has shared more than £20,000 amongst good causes in the area.
Level two coach Olivia Frankland explained: "We often had 15 players and access to just two courts, which restricted playing and coaching. A parent of one of our members successfully applied to Redrow for support to help us continue to grow the club. The funding helped cover our relocation costs. We now have access to four courts and have gone from one hour a week in a two-court sports hall to four hours a week with a lot more children playing and the introduction of adult sessions. It's allowed a lot more people to stay active by playing badminton."
Hartford Badminton Academy offers development sessions for players aged five to adult and social sessions for those aged 11 and above.
Caroline Thompson-Jones, area sales manager for Redrow Homes (NW), said: "It's important that people have opportunities to stay fit, healthy and active close to home. There are lots of sports clubs in and around Hartford for residents to join. Many of the projects we've supported previously via the community fund have been linked to sports including football, cricket, rugby and tennis. It's great to see Hartford Badminton Academy grow in numbers and make a positive impact on people's lives."
If you need more space for your growing family, visit Redrow's Hartford Grange and Weaver Park developments.
---
Issued for & on behalf of Redrow Homes (NW) by Active PR