Pizza Express Now in The Hub MK
15th June 2015
... Comments
---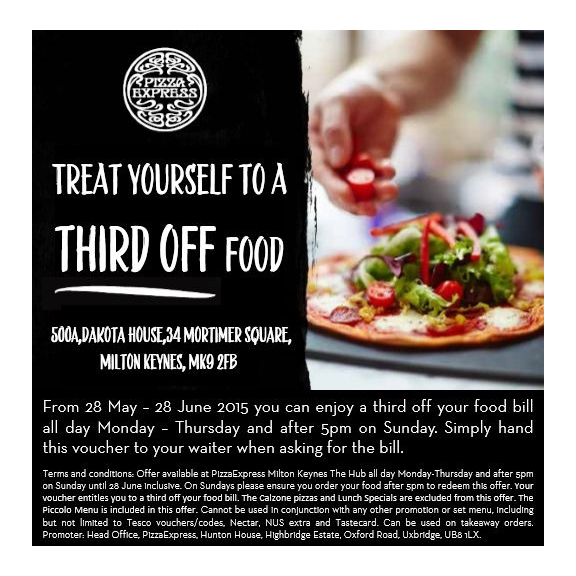 Review of the Latest Pizza Express that has Recently Arrived at the Hub in Milton Keynes.
Established for 50 years Pizza Express have now opened their latest outlet at the Hub in Milton Keynes, and it fits in perfectly with the other restaurants and lively bars that give the Hub a real buzz
We booked a table on a Saturday evening to visit and as  we entered the restaurant we  were warmly welcomed shown to our table, our order for drinks wastaken,  and bought to the table before we had open the menus.
We ordered Bruschetta Con Funghi and doughballs to start, the former being particularly delicious, I must order that for myself next time!
For mains I chose the new American Hottest pizza, and my wife had the Calabrese, the empty plates tell their own story.
Just enough room for desserts I opted for Leggera Sorbet which was just right to follow the spicy main and my wife had the Honeycomb Cream Slice.
The restaurant was very busy however the service was quick and our server very friendly and constantly checked all was OK. It may not be the choice if you want a long leisurely meal out, however the restaurant fits in well with the busy vibrant feel of the Hub, and an ideal place to start if you are on a night out. Equally with the large area for alfresco dining a great place for an afternoon or early evening treat in the summer sun.
You can also save a Third off your food bill all day Monday-Thursday and after 5pm on Sundays until June 28th.