Festive Afternoon Teas at Wistow Cafe Bistro
Wistow Rural Centre
Kibworth Road
Wistow
Leicestershire
LE8 0QF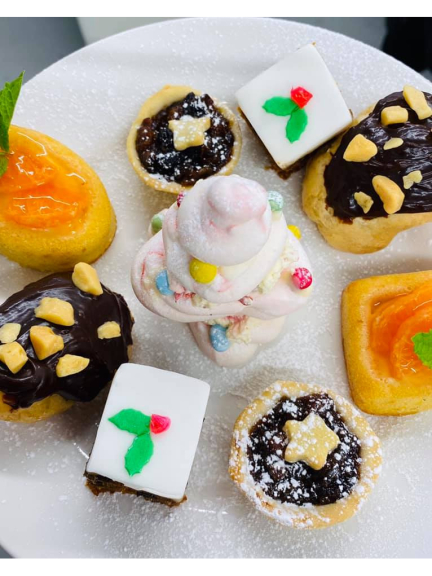 Festive afternoon tea at Wistow Cafe Bistro is back for another year! We will be serving a special afternoon tea menu from the 30th of November through to the 23rd of December.
Two sittings will be available, one at 12pm and the other at 2pm. The cost is £24.95 per person.

Our festive afternoon teas are really popular, so we advise booking as soon as you can to avoid disappointment.
The number to call to book is 0116 259 3756
Future dates
Sunday 8th December 2:00pm until 3:30pm
Monday 9th December 12:00pm until 1:30pm
Monday 9th December 2:00pm until 3:30pm
Tuesday 10th December 12:00pm until 1:30pm
Tuesday 10th December 2:00pm until 3:30pm
Wednesday 11th December 12:00pm until 1:30pm
Wednesday 11th December 2:00pm until 3:30pm
Thursday 12th December 12:00pm until 1:30pm
Thursday 12th December 2:00pm until 3:30pm
Friday 13th December 12:00pm until 1:30pm
Friday 13th December 2:00pm until 3:30pm
Saturday 14th December 12:00pm until 1:30pm
Saturday 14th December 2:00pm until 3:30pm
Sunday 15th December 12:00pm until 1:30pm
Sunday 15th December 2:00pm until 3:30pm
Monday 16th December 12:00pm until 1:30pm
Monday 16th December 2:00pm until 3:30pm
Tuesday 17th December 12:00pm until 1:30pm
Tuesday 17th December 2:00pm until 3:30pm
Wednesday 18th December 12:00pm until 1:30pm
Wednesday 18th December 2:00pm until 3:30pm
Thursday 19th December 12:00pm until 1:30pm
Thursday 19th December 2:00pm until 3:30pm
Friday 20th December 12:00pm until 1:30pm
Friday 20th December 2:00pm until 3:30pm
Saturday 21st December 12:00pm until 1:30pm
Saturday 21st December 2:00pm until 3:30pm
Sunday 22nd December 12:00pm until 1:30pm
Sunday 22nd December 2:00pm until 3:30pm
Monday 23rd December 12:00pm until 1:30pm
Monday 23rd December 2:00pm until 3:30pm