Housing Units surprises Ward 84 with Norman the Doorman teddy bear delivery
4th April 2017
... Comments
---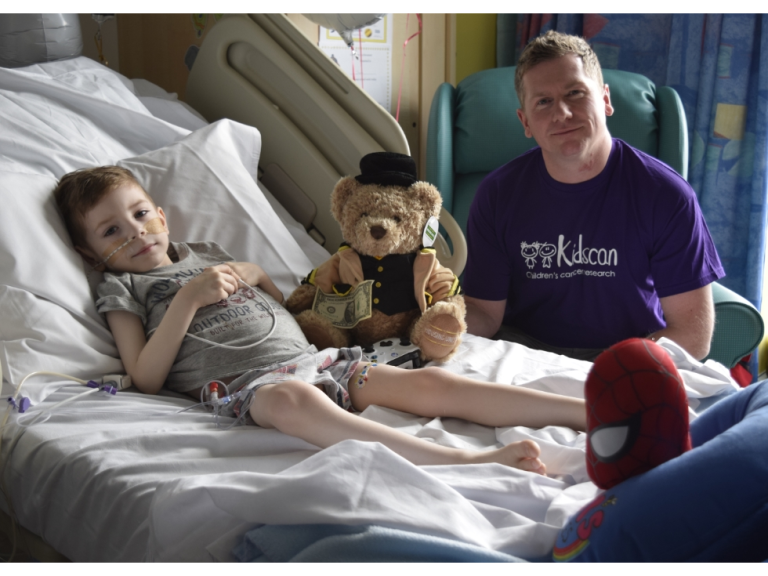 On Friday 31st March, Housing Units' CEO Nick Fox surprised children of Royal Manchester Children's Hospital's Ward 84 with a delivery of Norman the Doorman teddy bears, the much loved mascot of the Failsworth-based home furnishings store.
70 Norman the Doorman teddy bears were handed out to children on the ward as part of Housing Units' 70th Anniversary celebrations.
Nick Fox presenting Teddies to Ward 84
Currently sold within the store and online, a proportion of every Norman the Doorman teddy bear sale is donated to children's cancer research charity Kidscan. Housing Units' successful partnership with Kidscan has resulted in the store raising £23,000 over the two year period since the partnership began in April 2015.
It was Kidscan's close connection to the children of Ward 84 which inspired Housing Units' teddy bear presentation. The Salford-based charity has a long-standing relationship with the ward of Royal Manchester Children's Hospital, with Kidscan patient ambassador Gracie McCall having been treated there before she recently passed away following a three year battle with a rare cancerous brain tumour.

Nick Fox, CEO at Housing Units, commented: "Supporting Kidscan's vital work is something we're very proud of here at Housing Units. Helping to ensure Kidscan can continue with its ground breaking research means we're one step closer to a world where every child is given their best chance to not only survive but thrive too. Surprising the brave and inspirational children of Ward 84 with our Norman the Doorman teddy bears was a touching experience I'll never forget."

Ged Carter, Director of Development at Kidscan, commented: "We are unbelievably grateful to Nick Fox and the team at Housing Units for their ongoing support of our work. We share a special connection with Ward 84 so were particularly moved by this heartfelt act of kindness on behalf of Housing Units."
For more information on Kidscan and to donate, visit: www.kidscan.org.uk