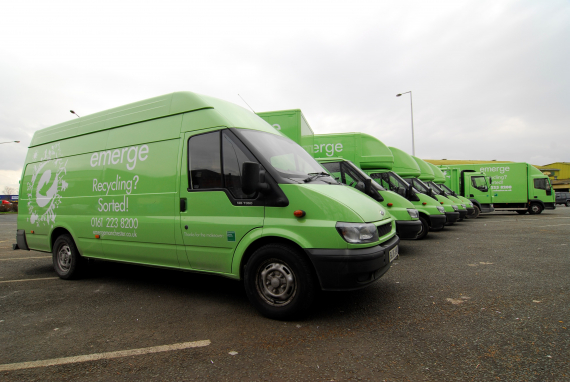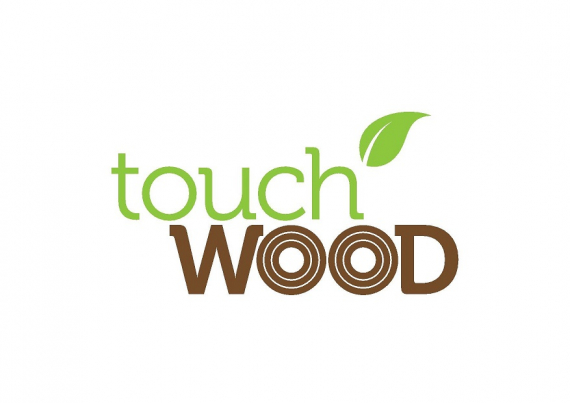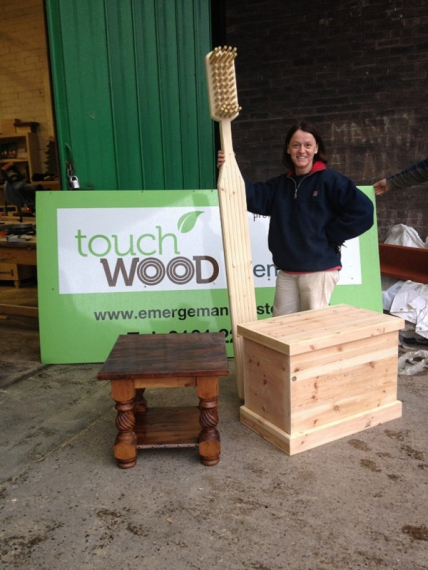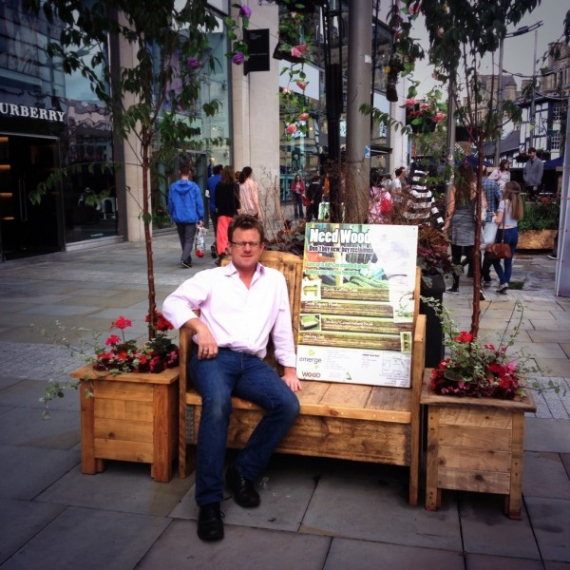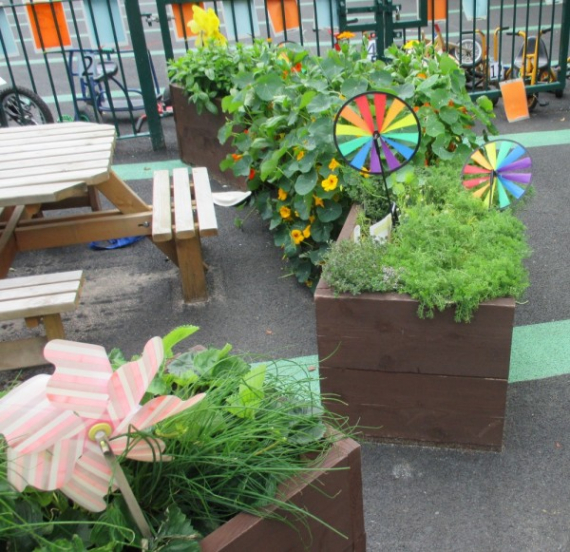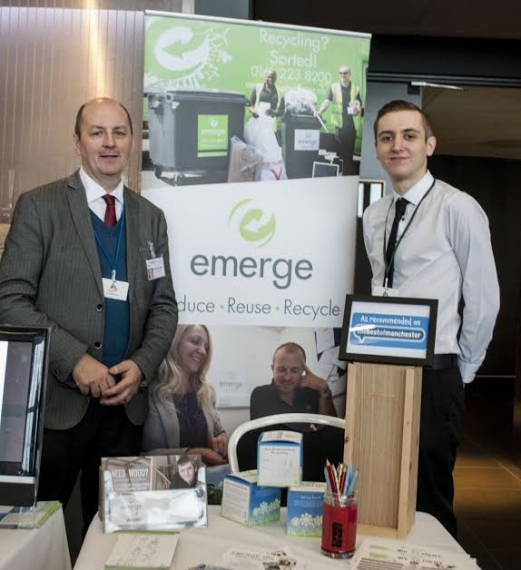 about us
EMERGE Recycling is the trading arm of EMERGE 3Rs, a registered charity based in Manchester. They offer a variety of services that will not only ensure that all your waste and recycling needs are taken care of, but will also contribute to your Corporate Social Responsibility policy. In addition EMERGE run the Greater Manchester depot of national charity FareShare and offers an extensive volunteering programme and employability programme.
---
EMERGE Recycling offers the full range of waste and recycling services to businesses and schools throughout Manchester and surrounding areas, including:
CONFIDENTIAL SHREDDING
Paper records still exist, even in the digital age, and you can still be liable for a fine of up to £500,000 if information about your clients, employees, service users or patients falls into the wrong hands. With the EMERGE confidential shredding service you can rest assured that your confidential paper records will be disposed of securely.  Your material will be:
Stored in locked containers
Transported in a secure vehicle
Shredded under highly controlled conditions
Shredded materials goes to a local recycling mill, is pulped and made into new paper thereby supporting the 'circular economy'
A Certificate of Secure Destruction is provided to you as evidence that your paper records have been disposed of confidentially.
RECYCLING COLLECTIONS AND RESIDUAL WASTE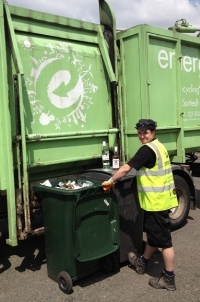 EMERGE can provide bins in your workplace to collect a whole host of source-separated materials including:
Paper
Confidential waste paper
Cardboard
Glass
Cans
Plastic bottles
Toner cartridges
Mobile phones
CDs
IT and electrical equipment
Fluorescent tubes
General purpose batteries
Wood waste including from construction sites (see below Touch Wood)
EMERGE can also provide external 240L and 1100L wheeled bins and empty them on an agreed frequency from an external location for a range of source-separated materials for recycling. They also offer a similar external bin service for residual waste for disposal.
DAILY TAKEAWAY
If you're a business in the city centre, with little or no space to store your waste then the EMERGE's Daily Takeaway service could be just the solution you are looking for. EMERGE will pick up waste paper, cardboard, cans and plastics bottles and also provide a bag service for residual waste. This pay-as-you-throw kerbside service is available seven days a week enabling businesses to recycle more quickly. 
WEEE (waste electrical and electronic equipment)
EMERGE can arrange to pick up all your old and unwanted electrical items, such as IT - if it's got a plug, it can be recycled, or even reused with your blessing! Hard drives can be securely destroyed for you with accredited certification provided.
SCHOOLS & PUBLIC SECTOR SERVICES
EMERGE offers waste and recycling collection services to educational establishments and others:
| | |
| --- | --- |
| Protect the environment | The more you recycle, the less landfill is required |
| Save Money | Using recycling bins instead of disposal bins may save your organisation money - at the very least you will be seen to tackling climate change and setting the right example to students and staff. |
| Meet Government Targets | Helps towards OFSTED, DFES and other compliance regimes but also involves students and staff in the importance of 3Rs and recycling educational programmes. |
TOUCH WOOD
Working with the National Community Wood Recycling Project (NCWRP) EMERGE collect redundant wood from construction sites.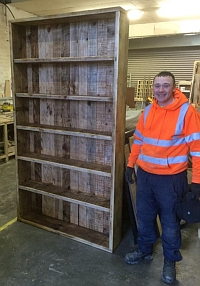 They have some fantastic volunteers who use this wood to make practical bespoke products like, bookshelves, wine racks and garden planters to name a few.  With this in mind they are always interested in reclaiming any timber from any source.   So give them a call if you have any waste wood that you would like to give a second life to.
Touch Wood's workshop is open Mon-Fri 9-5, drop in or give them a call if you are interested in making a purchase or perhaps commissioning a bespoke product.  They are also planning on running short training courses on woodwork and have a Pop Up Shop in Manchester selling upcycled and reuse items, so keep an eye on our Events page.
FareShare
EMERGE run the Greater Manchester FareShare depot, taking surplus food from food manufacturers, and retailers, and redistributing it to support organisations who help the homeless and others in need across Manchester and the surrounding area.  In addition they run training programmes to inspire and motivate the community such as the 'Love Food, Hate Waste' 'Grow your own' and 'Too Good to Waste' initiatives.
 
---
For any questions regarding recycling, confidential shredding and waste management in Manchester, volunteering or employability programme please contact us:
---
 EMERGE 3Rs
Waste Reduction, Reuse and Recycling
Manchester
0161 223 8200
---

Contact us

Units E1-7, A36
New Smithfield Market
Manchester

M11 2WJ

Email us now

Visit our website

follow us

This is a live stream from Twitter - not the voice of thebestof!

find us on facebook