ALLERTON CAUSES INVITED TO APPLY FOR COMMUNITY CASH
Redrow's Yvonne Gaskill with Quarry Athletic Under 14s in their new Redrow sponsored kits
Redrow has kicked off its latest Community Fund by sponsoring a junior football team in Allerton and is inviting other good causes to apply for a share of £10,000.
Since 2016 Redrow has gifted more than £100,000 to community projects across the North West via voluntary community funds linked to its new homes developments. The company has also offered practical assistance and materials, including helping with renovations to community centres.
Quarry Athletic Under 14s scored support from the homebuilder with a £500 donation for new kits. The team train on Springwood Playing Fields, less than a mile from Redrow's new Allerton Gardens site on Allerton Road.
With the 100-home development coming soon, Redrow is inviting applications to its Allerton Community Fund.
Jason Newton, sales director for Redrow Homes (NW), explained: "When we launch a new development we aim to get right to the heart of the community and discover what makes it a great place to live by offering a pot of funding for good causes in the area. It's a great way of giving something back and celebrating the neighbourhood spirit.
"In and around Merseyside we have distributed more than £25,000, helping schools, youth groups, sports teams and individuals at the heart of the community. We're now inviting people living in or near Allerton to apply for a share of our Allerton Community Fund of £10,000." 
Applications are being invited from local charities, community groups and other good causes.
Rather than make a single large donation, Redrow hopes to offer support to as many organisations and individuals as possible, promising to share out the cash pot accordingly. Contributions like that made to Quarry Athletic are ideal.
Garry Bond, manager of Quarry Athletic Under 14s, said: "Sponsorship from Redrow is a huge boost to the team, enabling us to purchase new kits. The players are looking forward to wearing them in the forthcoming Liverpool County Premier League season and in various tournaments across the North West, including the participation of an international tournament next year.  All the players and parents are extremely grateful to Redrow for this."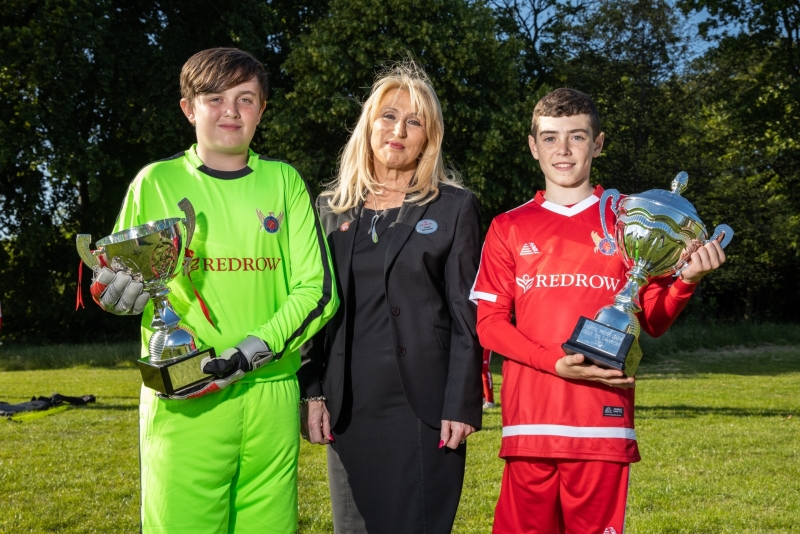 Quarry Athletic Under 14s Dylan Bond (vice captain) & Max Nolan with Redrow's Yvonne Gaskill 
Almost half of the 33-acre Allerton Gardens site will remain as green space, including 10 acres of publicly accessible parkland, plus informal footpaths, areas of amenity and meadow grassland for informal play and enhanced biodiversity.
The development will offer premium three, four and five-bedroom homes from the Arts & Crafts inspired Heritage Collection.
The first properties are due to be released for sale "off plan" in late summer/ early autumn, with show homes scheduled to open in early 2020.
For more information about the homes see www.redrow.co.uk/allerton
Those wishing to nominate a project for Redrow to consider supporting can download an application form viahttps://www.redrow.co.uk/promo/allerton-community-fund.  The deadline for completed applications is August 25.
---
Issued for & on behalf of Redrow Homes (NW) by Active PR