Monday 2nd December-Sunday 5th January 
Lichfield Garrick presents.... 
Cinderella featuring the return of Rebecca Keatley & Sam Rabone. Don't miss it book your tickets today!
Monday 2nd - Monday 23rd December
Christmas Lunch with The Strawberry Cabin
Join family and friends for a Christmas lunch hosted by the team at The Strawberry Cabin. a great way to kick off the festive season. Booking essential.
Monday 2nd December
Free Watch & Jewellery Valuations
Have your precious jewellery & watches valued with the team from Richard Winterton Auctioneers every Monday at The Hub St Mary's on Market Square.  
Wednesday 4th December
Little Friends Playgroup
A pre-school playgroup for babies & toddlers with their parents or carers. Little Friends meet every Wednesday afternoon & Thursday morning during school time. 
Thursday 5th December
St Giles Light up a Life
During December across the district St Giles Hospice will be hosting Light up a Life services to remember loved ones. Tonight they can be found in Whittington.
Saturday 7th & Sunday 8th December
Christmas Food Festival
Throughout the City you will find over 130 stalls tempting you with their Christmas food goodies. Brought to you by the Lichfield Food Festival team.

Saturday 7th December
Santa's Magical Garden
Opens today at the Lichfield Garden Centre, please book early to avoid disappointment.
Meet Father Christmas at....
Bradshaw's Farm Shop & Cafe, in his grotto, waiting to meet all the boys and girls in the Burntwood area. Please book early.
Sunday 8th December
Festive Charity Dash
Join in this annual event brought to you by KP Events as they enjoy a traffic free 2.5km around Lichfield. Surprise shoppers at the Christmas Food Festival around the city and really get into the spirit of Christmas.
St Giles Rudolph Run
Or you can take part in the Rudolph Run happening at Tamworth Castle on behalf of St Giles. You're spoilt for choice this weekend.
Christmas Artisan Market
You will find Hunnypot Cottage at this festive artisan market at Buzzards Valley this Sunday. Why not pre-order your favourite? 
Coming up throughout December....
Just a reminder that the St Giles Hospice Tree Recycle will be taking place again this year. Do your bit for the environment and make a donation to this worthwhile cause.
The Elves are coming....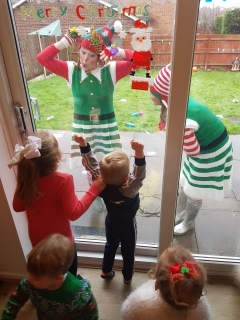 To your garden this December with the team from aBagOfun. Watch the delight on your child's face when the elves misbehave badly in your garden! Book your visit today.
Monday 16th - Saturday 21st December
The Cathedral Illuminated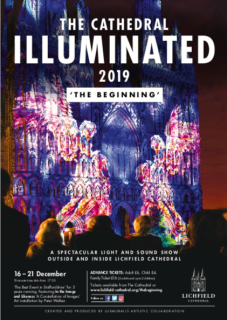 This years lighting spectacular at the Lichfield Cathedral is not to be missed completing this years theme of Space, Time and Light Book your tickets before it's too late. 
Have a fabulous fun packed week right here in Lichfield.