"NewYear NewHobby" loveART?-ARTCLASS - Saturday Art Class
The Red Carpet Cinema & Cafe Bar
Barton Marina
Barton under Needwood
Staffordshire
DE13 8AS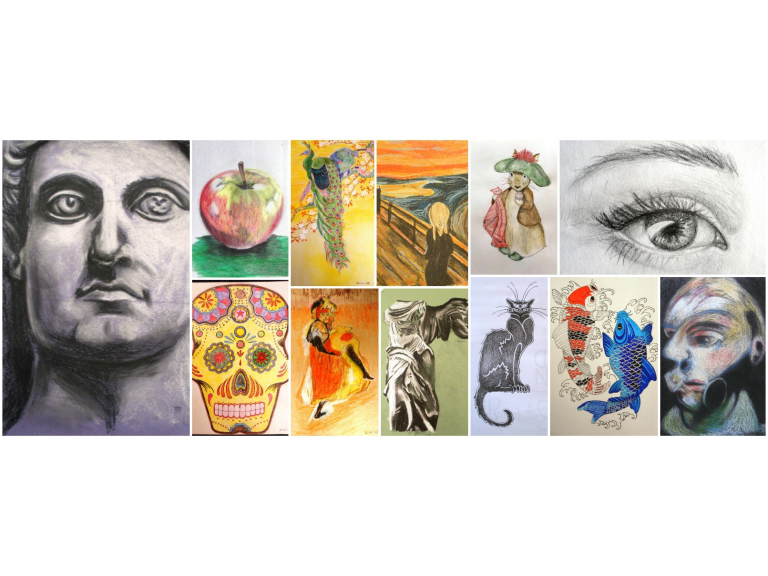 Beginner or Budding Artist??... ... A different lesson each week! … A new Topic every half-term… Have a go with lots of different mediums, styles and areas of Art... Learn professional skills and top-tips… Short, fun, and easy!… Children welcome...
Saturdays 9.30am–11am. - new term starts Saturday 11th January. Final Class 28th March
£120pp for a 12 week term with an option not to attend up to two classes – 10 classes are £100pp. Price includes a non-alcoholic drink.
Taught by Sam, Drawing Classes will include still-life, copying exercises, illustration, Art History, using pencil, charcoal, soft and oil pastels, coloured pencils, ink pen and watercolours. This term we will be concentrating on Portraiture and Figures, taking influence from DaVinci, Degas, Durer, Rembrandt, Caravaggio, Ancient African Art, Art Deco, Pop Art, and more…All classes will be fun and easy and highly suitable for beginners and will give you the professional hints and tips you need to improve your artistic talents. All materials are provided EXCEPT an A3 spiral topped sketch pad. A drink will be served on arrival.
Want to bring a child? We welcome one child per adult supervisor ON SATURDAYS ONLY. The child will need to be able to concentrate fully for an hour and a half without distracting the rest of the group. The adult supervisor will need to fully attend the art class as a fully paid up participating artist and should be willing to help their child set up their work if necessary. Sam circulates the class but needs to give equal attention to every participant so you need to be sure that your child can sit and work steadily within instructions that are given verbally at the start of the class. This is not a child friendly craft class, it's an adult class where very keen, artistic children will learn skills that will greatly assist their artistic skills throughout their school years. Children aged 12 and over will be welcome without the supervision of any adult as long as they can concentrate for an hour and a half without distracting the rest of the class.
How to book? Please come into the Red Carpet and pay at the bar. Thank you.
Future dates
Saturday 7th March 9:30am until 11:00am
Saturday 14th March 9:30am until 11:00am
Saturday 21st March 9:30am until 11:00am
Saturday 28th March 9:30am until 11:00am
Saturday 4th April 9:30am until 11:00am
Saturday 11th April 9:30am until 11:00am
Saturday 18th April 9:30am until 11:00am
Saturday 25th April 9:30am until 11:00am
Saturday 2nd May 9:30am until 11:00am
Saturday 9th May 9:30am until 11:00am
Saturday 16th May 9:30am until 11:00am
Saturday 23rd May 9:30am until 11:00am
Saturday 30th May 9:30am until 11:00am
Saturday 6th June 9:30am until 11:00am
Saturday 13th June 9:30am until 11:00am
Saturday 20th June 9:30am until 11:00am
Saturday 27th June 9:30am until 11:00am
Saturday 4th July 9:30am until 11:00am
Saturday 11th July 9:30am until 11:00am
Saturday 18th July 9:30am until 11:00am
Saturday 25th July 9:30am until 11:00am
Saturday 1st August 9:30am until 11:00am
Saturday 8th August 9:30am until 11:00am
Saturday 15th August 9:30am until 11:00am
Saturday 22nd August 9:30am until 11:00am
Saturday 29th August 9:30am until 11:00am
Saturday 5th September 9:30am until 11:00am
Saturday 12th September 9:30am until 11:00am
Saturday 19th September 9:30am until 11:00am