Booking early is essential to ensure they have plenty of time to plan their route around the area. 
They offer an elf invasion of your home or a garden visit the choice is yours but trust us the laughter is infectious.
Starting from Saturday 5th through until Tuesday 24th December.
Welcome to the wonderful world of the legendary ABagOfun elves!
They have two types of elf services available.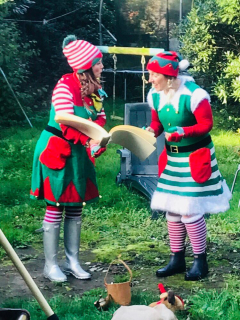 One is the elf garden visit where our cheeky elves sneak into the garden, play with the children's toys, collect your letters to Santa, decorate your garden with candy and surprise the child at the viewing window! (The full contents is revealed on booking)
£65 for 4 children. Additional children can be added for an extra £7.50 per head.
The second is the home invasion! Where their naughty elves burst their way into your home, taking the children on a journey around the world though dance. Play games with the children and check them on the NICE list and the adults on the NAUGHTY list, decorate the home with candy and provide games with spectacular magic before they leave.
£115 for 4 children, additional children can be added for an extra £7.50 per head however maximum number of children is 12
They require a £10 deposit to reserve your slot and the final balance must be paid by the 1st of December.
IN ADDITION TO THE LEGENDARY ELF VISITS THE FOLLOWING PRACTICES ARE NOW IN PLACE!
1. The elf garden visits aren't limited, it is the person booking responsibility to manage household numbers (6)
2. The elf invasions are limited to a family unit AND support bubble (MAX 6)
3 The PARTY WITH AN ELF is limited to a family unit AND support bubble (MAX 6).
Their philosophy and 'keep it clean' methods are firmly established and to support this further, many of their experiences that include games will be using disposable equipment and hard plastics that are easily cleaned between each household. Further to this, more equipment has been purchased to allow for a full days bookings and beyond. Safety is their top priority and they are stringent in their methods to uphold this.
All elves have been trained in EXTREME CLEAN by Santa in preparation for this season!
You can book safely in the knowledge that we are dedicated in our safety measures so you can relax and enjoy all the fun!