Swavesey Speakers: Toastmasters International
The meeting room
The Memorial Hall
High Street
Swavesey
Cambs
CB24 4QU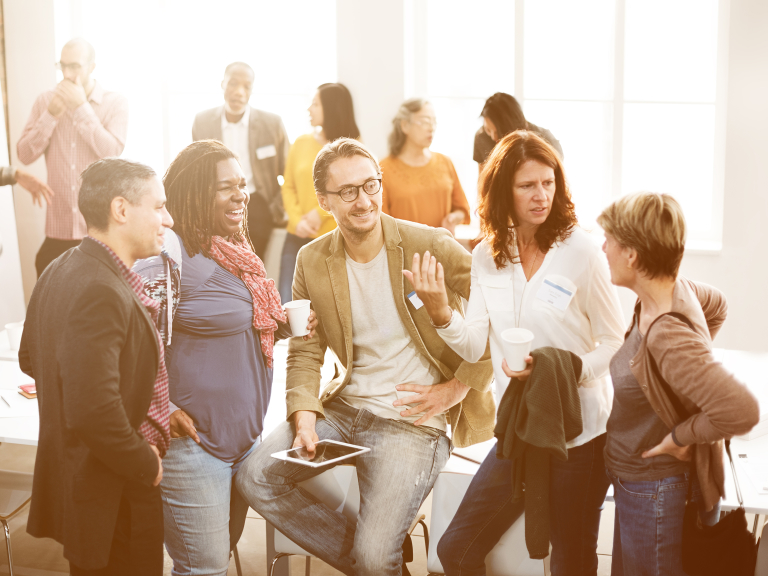 Practice public speaking skills and increase your confidence in a supportive and friendly club!
Would you like to be more confident in front of an audience? Do you have an important speech coming up and would like to practice and improve your skills?
You are welcome to join us at Swavesey Speakers! We meet on the 1st and 3rd Tuesday of every month at the Memorial Hall in Swavesey. There is an occasional change of venue so please check the website or get in touch if you are planning to come along.
On the night you can:
Challenge yourself by taking part in the impromptu speaking session - talk for a few minutes in a topic you've just been told! (Only if you want to)
Hear club members give their own speeches
Learn what the club can offer you
Have tea/coffee/biscuits and spend the evening with a nice bunch of people!
The club is run by volunteers and is part of the non-profit organisation Toastmasters International, which promotes learning public speaking skills via a self-paced education programme.
Future dates
Tuesday 17th December 7:00pm until 9:00pm
Tuesday 7th January 7:00pm until 9:00pm
Tuesday 21st January 7:00pm until 9:00pm
Tuesday 4th February 7:00pm until 9:00pm
Tuesday 18th February 7:00pm until 9:00pm
Tuesday 3rd March 7:00pm until 9:00pm
Tuesday 17th March 7:00pm until 9:00pm
Tuesday 7th April 7:00pm until 9:00pm
Tuesday 21st April 7:00pm until 9:00pm
Tuesday 5th May 7:00pm until 9:00pm
Tuesday 19th May 7:00pm until 9:00pm
Tuesday 2nd June 7:00pm until 9:00pm
Tuesday 16th June 7:00pm until 9:00pm
Tuesday 7th July 7:00pm until 9:00pm
Tuesday 21st July 7:00pm until 9:00pm
Tuesday 4th August 7:00pm until 9:00pm
Tuesday 18th August 7:00pm until 9:00pm
Tuesday 1st September 7:00pm until 9:00pm
Tuesday 15th September 7:00pm until 9:00pm
Tuesday 6th October 7:00pm until 9:00pm
Tuesday 20th October 7:00pm until 9:00pm
Tuesday 3rd November 7:00pm until 9:00pm
Tuesday 17th November 7:00pm until 9:00pm
Tuesday 1st December 7:00pm until 9:00pm
Tuesday 15th December 7:00pm until 9:00pm
Tuesday 5th January 7:00pm until 9:00pm
Tuesday 19th January 7:00pm until 9:00pm
Tuesday 2nd February 7:00pm until 9:00pm
Tuesday 16th February 7:00pm until 9:00pm
Tuesday 2nd March 7:00pm until 9:00pm
Tuesday 16th March 7:00pm until 9:00pm
Tuesday 6th April 7:00pm until 9:00pm
Tuesday 20th April 7:00pm until 9:00pm
Tuesday 4th May 7:00pm until 9:00pm
Tuesday 18th May 7:00pm until 9:00pm
Tuesday 1st June 7:00pm until 9:00pm
Tuesday 15th June 7:00pm until 9:00pm
Tuesday 6th July 7:00pm until 9:00pm
Tuesday 20th July 7:00pm until 9:00pm
Tuesday 3rd August 7:00pm until 9:00pm
Tuesday 17th August 7:00pm until 9:00pm