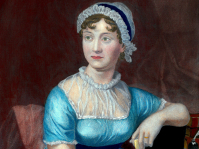 Kate Cavendish performs in our 900 year old Music Room at The Manor
A lively and varied recital/performance celebrating the life, mind and writings of one of our greatest novelists, this one-woman show consists entirely of Jane Austen's words, with extracts from her memoirs, letters, juvenilia, poetry and novels. Devised and directed by Stephen Siddall and produced by Jeremy Musson, these performances promise engaging drawing-room intimacy.

Tickets: £17.50

Call 01480 463134 or email diana_boston@hotmail.com to book.
*thebestof cannot be held responsible for any changes, amends or cancellations of an event
Contact us: 01480 463134

visit us

The Manor
Hemingford Grey
Cambs
PE28 9BN