What's on in Huntingdon and St Ives this weekend.
WHAT'S ON IN HUNTINGDON AND ST IVES THIS WEEKEND 
Celebrate Halloween weekend in style with lots of things going on all around Huntingdon and St Ives that will spook your interest, as well as other less spooky events taking place.
Weekend Long Events
Horror at Hinchingbrooke House is back for another year of scare nights. This year see all new scare zones including Jeepers Creeper, The Shinning, The Purge and many more. It started on Saturday, 22nd, it continues right though to Saturday 29th offering several entry times each night.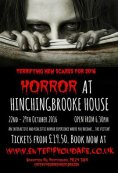 Starting on Wednesday 26th October and continuing until Sunday 30th October Fen Drayton Lakes will be holding a Harry Potter Themed Trick or Tweet trail.  Explore the nature reserve as you take on this Halloween Challenge. 
Join The Manor, Hemingford Grey, as storyteller Martin Prest, brings the story of Jonathan Harker's terrifying encounter with Count Dracula, to life, in Dracula Part 1; Jonathan Harker's Journal. Tickets are £16 and include a glass of wine or soft drink. There are two dates for your chance to hear this fascinating tale, Saturday 29th October and Sunday 30th October.
As well as weekend long events there is also some fabulous one-day only events.
Friday 28th October  
End your week by enjoying a relaxing cup of coffee at The A14 Networking at The Taproom, St Ives, and meet other local businesses.
After networking pop over to St Ives Corn Exchange, for the Country Market, for a range of homemade, home grown local produce.

Join Wicken Fen as they have some spooky fun at their Fenland Spooktacular. Take part in Halloween themed games and crafts and go dressed in your Halloween costume. Booking in advance is essential, tickets are £5.25 per child.
Have a fantastic family fun filled evening at Bluntisham Village Hall as they host a Halloween Disco for all the family. Join in with the fun with a disco, bar, games and a raffle and help raise money for the Target Ovarian Cancer Charity.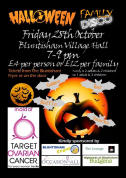 For something a little less spooky take a trip to The Burgess Hall as they host another one  of their fantastic evenings full of laughs, Jesterlarf Comedy Club. With a great line-up of four top comedians it is set to be an evening leaving you laughing off your chair. Tickets are £12 in advance or £14 on the door.
St Ives Corn Exchange are hosting a great event and not a pumpkin in sight. The Ladies Fashion Show and pop up shop is your chance to try on and buy ex High Street fashion with at least 50% off, and try your luck at the raffle to win fabulous prizes. Tickets are £10 and includes a glass of wine.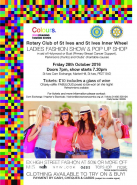 For an evening of great musical entertainment visit Hinchingbrooke Performing Arts Centre as they host '10th Bosëndorfer Piano concert series'. The world renowned quartet will be performing once again with pianist Martino Tirimo. Tickets are £12, Pupils/students under 21 are £5 or for group bookings of 20 or more tickets are just £9 each.
Saturday 29th October.
Visit Huntingdon town for their bi-weekly market.
Car Boots today are at Huntingdon Racesource.
Join Huntingdon Racecourse as they present a fantastic event for all the family. Their Halloween and Fireworks Extravaganza, returns for another year, with large fairground rides, Halloween costume competitions, real ale tent as well as a fantastic firework display. Gates open at 16.30, and tickets are on sale now.

 Get ready for bonfire night and see an amazing display of fireworks at Buckden Marina. Fireworks for Zach will be helping to raise money for, Zachery's Aim, raising vital funds to make Zach's dream of walking a reality. This fantastic pyro-musical display of fireworks has been designed for you by the same team that deliver the London New Years Eve display and London 2012 Olympic display. Display starts at 6.30, and gates open at 5.30pm. Tickets are £12 for a family ticket (2 adults and 2 children), adults £5 and under 13's £3.
Join The Raptor Foundation as they open their doors for your chance to see the birds in a new light, twilight to be exact, for their 'Spooky Night'. You will get the chance to have a night-tour of the centre, reptiles in the dark and a twilight flying display. There will also be a competition for the best dressed, and best home-carved pumpkin. Tickets are £8.50 per person and includes soup and a role.
For a night of Disco Zombie dancing head on down to Huntingdon's Commemoration Hall as they present 'Uncle Funk and The Boogie Wonderband'. With a dress code of Disco Zombies, and tickets are just £15 it's set to be a thriller of a night.

 Sunday 30th October. 
You can visit Car Boot Sales today at Huntingdon Racecourse, Skylark Garden Centre and Crystal Lakes.  
Enjoy a leisurely morning enjoy coffee and some spooky fun at Alconbury Memorial Hall, as they host 'Halloween's Eve Coffee Morning'. With a tombola and raffle you have a chance to win some incredible prizes. Donations to the raffle and Halloween themed cake will be gratefully received. Go dressed in your best costume and help raise money for Dreamdrops Huntingdon's Children's Charity and Huntingdonshire Society for the blind.
What better way to end half term than with a party? Join the Comrades Club, Godmanchester for their Children's Halloween Party 2016. Both children and adults can test out those Halloween costumes early, and take part in colour competitions, games, disco and much more. Tickets are £3 for children and £2 for adults.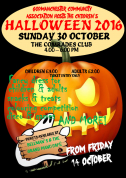 To see more Halloween events, take a look at our Halloween blog;
https://www.thebestof.co.uk/local/huntingdon-and-st-ives/community-hub/blog/view/whats-happening-this-halloween-and-bonfire-night-in-huntingdon-and-st-ives 
To view these and more visit 
https://www.thebestof.co.uk/local/huntingdon-and-st-ives/events 
You can also add you own event here:- 
https://www.thebestof.co.uk/local/huntingdon-and-st-ives/members/events/add