What's on in Huntingdon and St Ives this weekend.
WHAT'S ON IN HUNTINGDON AND ST IVES THIS WEEKEND 
This weekend is really one to stay local and enjoy all of the fabulous events taking place right on your doorstep. From weekend long music festivals to one day summer fetes. There is something for everyone. 
Weekend Long Events
Haddenham Beer Fest – This is a fantastic event that is running from Friday 1st July right through to Sunday 3rd July, each day offering something different. Friday 1st – Mums and Dad's night out, with live music, Pimms tent and much more. 5.30pm – 10.30pm. Saturday 2nd – Family Day, Live music all day and into the evening, bouncy castles, games and activities for everyone and much more. 12pm – 10.30pm. Sunday 3rd – Time to Relax, fantastic music, beer, cider and great food. 12pm – 6pm.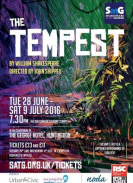 The Tempest – This amazing Shakespearean play is bought to life right in the grounds of The George Hotel, Huntingdon, under the watchful eye of director John Shippey. This is running right through the weekend and into next week with the last show on Saturday 9th July, with the exception of Sunday 3rd July.
Join Huntingdon Music Festival as they produce great concerts from great venues all over Huntingdon, from Friday 1st July – Sunday 3rd July. Friday you will see Glenn Tilbrook perform at the Commemoration Hall. Saturday will see Huntingdon Town Hall become a concert room for Henry Priestman, supported by Les Glover. On Sunday you will get the chance to see Pete Riley and Amy Wadge (who co-wrote 'Thinking Out Loud' with Ed Sheeran) at St Mary's Church, Huntingdon.
The lovely village of Needingworth will be holding their two-day Music Fest over Saturday and Sunday, with a range of music to suite most tastes, great food, games and activities for all, this is a great family fun weekend.
Along with all of the weekend long events there are lots of great 1 day events taking place, so go and support your local community. 
 Friday 1st July.

End your week by enjoying a relaxing cup of coffee at The A14 Networking at The Taproom, St Ives, and meet other local businesses.
After networking pop over to St Ives Corn Exchange, for the Country Market, for a range of homemade, home grown local produce.
Take a trip to Huntingdon Town for their Farmers Market, full with local produce from flowers to meat and much more. 
Visit Huntingdon town for their bi-weekly market,  St Ives Town for their Farmers Market, or visit Huntingdon Racesource, for today's Giant Car Boot.
If You need to get out of the rain, it's the perfect excuse to pop into the Free Church, St Ives and visit their ever popular Saints Crafters Fair.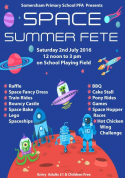 Support Somersham Primary School by visiting their summer fete 'Somersham in Space'. With lots of great stalls, games and raffles including a wheelbarrow full of alcohol to win, plate smashing, space hopper races, BBQ and much more it is definitely an event for all of the family.
After visiting Somersham's School Fete, help support another local school and visit St Helen's Primary School, Bluntisham, 'Party in the Park', in celebration of The Queen's 90th Birthday. With bouncy castles, refreshments and a disco later on it is bound to tire the children out for a great night's sleep.

If you are a fan of the Wizard of Oz then this is the event for you as Houghton Mill host an Open Air Musical – 'The Wizard of Oz'. This comical musical production is set to bring the wonderful world of Oz to life for you and the children. Showing starts at 6pm with children's activities from 4.30pm.
Join St Mary's Church Huntingdon, as they host their 4th annual Comic Art evening. With Books, comics and art all on display for you to see and talk to some of the artists. You will also get the chance to have a go at sketching yourself. Refreshments are available. 
Sunday 3rd July.
You can visit Car Boot Sales today at Huntingdon Racecourse, and Crystal Lakes.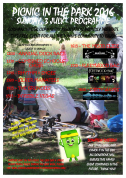 Join Godmanchester for the day as they are holding a Picnic in the Park. Go along with your picnic, family and friends and enjoy a lazy Sunday listening to great music. With a bar, refreshments, fair rides, and a duck race even the little ones will enjoy themselves. 
To view these and more visit 
You can also add you own event here:-