THE BRITISH SCHOOLS MUSEUM, HITCHIN
41-42 Queen St, Hitchin
SG52BN
Friday 14th February, 10:00am - Until Sunday 29th November, 5:00pm
See future dates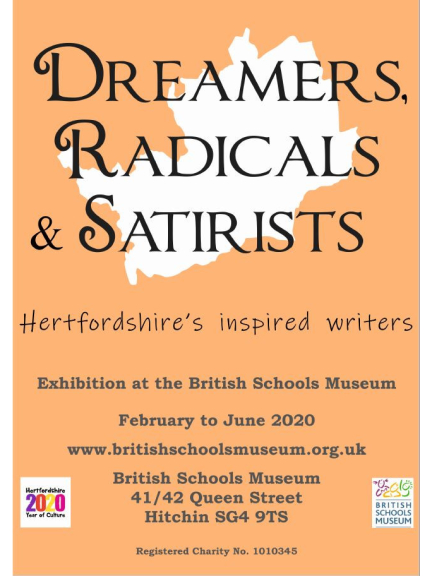 Hitchin holds a unique place in the history of education as it boasts the world's last remaining purpose-built Monitorial schoolroom. The grade II* listed building opened in 1837, but the school was founded in 1810, Our current special Exhibition: Dreamers, Radicals & Satirists highlights authors who have either lived or been influenced by Hertfordshire.
Normally open  for public visits on Fridays & Saturdays 10am–4pm, Sundays 2pm–5pm but please check our website  for details of temporary changes to regular opening hours and of special activities & extra opening times during school holidays NB: last entry time for the museum is 30 minutes before closing time, but the shop & cafe (free entry) will be open until the published closing times. 
There is a small admission charge. Discounts are available for family groups. We recommend you allow at least two hours for your visit. On the first Sunday of each month you can enjoy a Victorian lesson at no extra charge. Lessons start at 2.30 and 3.30 pm. – don't be late! These sessions are very popular, advance booking is recommended.
Future dates
Saturday 28th March 10:00am until 4:00pm
Sunday 29th March 2:00pm until 5:00pm
Friday 3rd April 10:00am until 4:00pm
Saturday 4th April 10:00am until 4:00pm
Sunday 5th April 2:00pm until 5:00pm
Friday 10th April 10:00am until 4:00pm
Saturday 11th April 10:00am until 4:00pm
Sunday 12th April 2:00pm until 5:00pm
Friday 17th April 10:00am until 4:00pm
Saturday 18th April 10:00am until 4:00pm
Sunday 19th April 2:00pm until 5:00pm
Friday 24th April 10:00am until 4:00pm
Saturday 25th April 10:00am until 4:00pm
Sunday 26th April 2:00pm until 5:00pm
Friday 1st May 10:00am until 4:00pm
Saturday 2nd May 10:00am until 4:00pm
Sunday 3rd May 2:00pm until 5:00pm
Friday 8th May 10:00am until 4:00pm
Saturday 9th May 10:00am until 4:00pm
Sunday 10th May 2:00pm until 5:00pm
Friday 15th May 10:00am until 4:00pm
Saturday 16th May 10:00am until 4:00pm
Sunday 17th May 2:00pm until 5:00pm
Friday 22nd May 10:00am until 4:00pm
Saturday 23rd May 10:00am until 4:00pm
Sunday 24th May 2:00pm until 5:00pm
Friday 29th May 10:00am until 4:00pm
Saturday 30th May 10:00am until 4:00pm
Sunday 31st May 2:00pm until 5:00pm
Friday 5th June 10:00am until 4:00pm
Saturday 6th June 10:00am until 4:00pm
Sunday 7th June 2:00pm until 5:00pm
Friday 12th June 10:00am until 4:00pm
Saturday 13th June 10:00am until 4:00pm
Sunday 14th June 2:00pm until 5:00pm
Friday 19th June 10:00am until 4:00pm
Saturday 20th June 10:00am until 4:00pm
Sunday 21st June 2:00pm until 5:00pm
Friday 26th June 10:00am until 4:00pm
Saturday 27th June 10:00am until 4:00pm
Sunday 28th June 2:00pm until 5:00pm