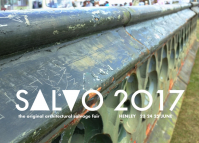 Salvo Fair is the UK's largest and original architectural salvage fair.
Visit Salvo Fair to see unique UK and European exhibitors with a wide range of architectural antiques, architectural salvage, reclaimed building materials, garden antiques, decorative antiques, retro, vintage, industrial, steam punk and upcycled products.
Salvo Fair is an outdoor event with marquees in grounds of the Fawley Hill, Henley-on-Thames, Sir William McAlpine's private estate with a full size steam train and museum.
The theme for the 2017 fair is off-grid living - antiques, reclamation and salvage, green living and the carbon benefits of reuse.
Adults £10, Children go free.
Open everyday from 10am - 5pm. Last admission 4pm.
Trade Day on Friday June 23rd. Price £20 on the gate.
The Trade Day is not suitable for children.
*thebestof cannot be held responsible for any changes, amends or cancellations of an event
Contact us: 01227 500485

visit us

Private estate of Sir William & Lady McAlpine
Icehouse Lane
Henley-on-Thames
Oxfordshire
RG9 3AP

follow us

This is a live stream from Twitter - not the voice of thebestof!

find us on facebook