Recipe of the Week – Prawn and Cauliflower 'Rice' Paella
13th October 2020
... Comments
---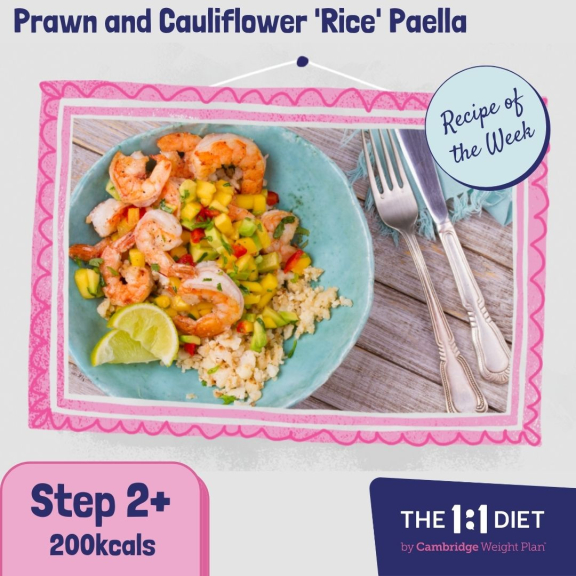 Recipe of the Week – Prawn and Cauliflower 'Rice' Paella
200kcals per serving (serves 2)
Step 2 and above on The 1:1 Diet
This week's recipe is a firm favourite with my slimmer's, and a tasty meal for anyone, whether you're following a healthy eating plan or just looking for something new to try.
This low-carb version of a Spanish paella is made with healthy cauliflower 'rice'. It's so quick and easy to make and tastes deliciously hot and spicy. You can use frozen prawns instead of fresh – just keep a bag in your freezer ready to defrost.
Why not give it a whirl and post your pictures to my Facebook recipe of the week post and inspire others with your creation: https://www.facebook.com/heidithedietlady/
Ingredients:
1 small cauliflower (approx. 250g)
spray oil
1 small green pepper, deseeded and diced  
2 shallots, diced  
2 sticks celery, diced  
2 garlic cloves, crushed
½ tsp ground cumin
½ tsp smoked paprika
a good pinch of chilli powder or crushed chilli flakes
150g canned diced tomatoes 
300g shelled cooked prawns   
a handful of flat-leaf parsley, chopped
juice of 1 small lemon
salt and freshly ground black pepper
Method:
Discard the stem and leaves from the cauliflower, and separate the head into florets. Pulse in a food processor until they have the consistency of rice-sized 'grains'.
Lightly spray a large deep frying pan with oil and set over a medium heat. Add the pepper, shallots, celery and garlic and cook for 4–5 minutes until just tender. Stir in the spices, tomatoes and cauliflower and cook for 4–5 minutes, stirring occasionally, until the cauliflower is warm and tender but still slightly crunchy.
Add the prawns and cook, stirring, for 2 minutes to warm them through. Season to taste with salt and pepper and stir in the parsley and lemon juice.
Divide between 2 serving bowls and serve immediately.
Enjoy!
Heidi - 07791002176
1:1 Diet Consultant
Silver level Consultant
E: hello@heidithedietlady.com
Facebook: https://www.facebook.com/heidithedietlady/
Instagram: https://www.instagram.com/heidithedietlady/