about us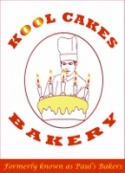 For cakes for every occasion, contact Kool Cakes in North Harrow - they make fabulous cakes in all shapes and sizes.
---
Kool Cakes Bakery
Professional Cake Makers and Decorators
In North Harrow
Specialising in Egg and Egg Less Cakes!
Do you want a delicious cake for a special occasion?
Then look no further than Kool Cakes in North Harrow - formerly known as Paul's Bakers, they make mouth-watering cakes in all shapes and sizes and can design a cake to suit your needs.
020 8427 9990
Recommended by The Best of Harrow
---
Cakes
Whether you enjoy sponge cake, chocolate cake, fresh cream cake or butter cream cake, Kool Cakes make cakes for every event:
Cakes for Corporate Events

Cakes for Sporting Occasions
All cakes are made without animal fat and can be egg less if required.
Call today to discuss your requirements or visit the website and use the Kool Cakes Wizard to order your cake!
020 8427 9990
---
Wedding Cakes and Favours
The team at Kool Cakes will design your wedding cake to suit your wedding day colours and style.
Wedding Cakes can be made in both traditional and modern designs and come in the following shapes:
Local delivery and wedding cake set up service is available.
---
Celebration and Novelty Cakes
Kool Cakes create beautiful celebration cakes - whatever the occasion.
All cakes are made to the highest quality and are guaranteed to be made on time for your special day.
If you want a novelty cake, then give the team a call - they are experts in designing fabulous Novelty Cakes e.g. aeroplanes, sporting cakes, books, presents, playing cards, James Bond, Baby Shower Cakes and more!
---
Opening Hours
Monday to Saturday: 8:00am - 6:00pm
Sunday: 11:00am - 4:00pm
---
For beautiful, handmade celebration and Novelty cakes in Harrow, call Kool Cakes today!
Servicing areas of Harrow, Hatch End, Pinner, Stanmore, North Harrow, South Harrow, Harrow Weald, Kenton, Harrow on the Hill and Belmont.
---
Please mention thebestofharrow when you contact Kool Cakes
Contact us

547 Pinner Road,
Harrow

HA2 6EQ

Email us now

Visit our website

follow us

This is a live stream from Twitter - not the voice of thebestof!

find us on facebook