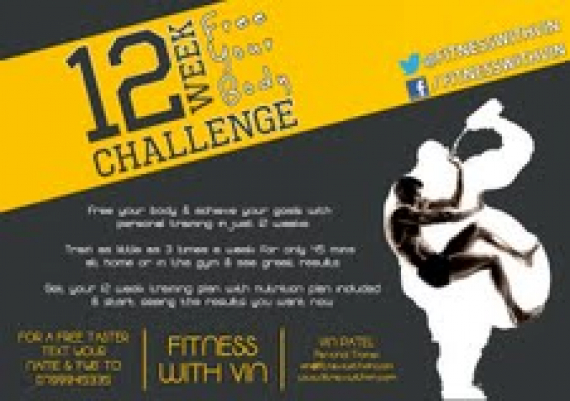 about us
Interested in toning up, keeping fit and losing weight, then you should contact Fitness with Vin in Harrow. A qualified and experienced personal trainer, Fitness with Vin trains men and women from the age 16 and over. Call now for a tailored fitness and nutrition programme to suit your needs.
Fitness with Vin
Personal Training
In Harrow

Are you finding it difficult to keep fit due to time constraints?
Do you feel uncomfortable attending exercise classes or going to the gym?
Would you like to lose weight and tone up?
Then you should contact Vinay Patel at Fitness with Vin – an experienced personal trainer who helps people achieve their fitness, health and sports related goals.
07999 415335 
Recommended by The Best of Harrow
About Fitness with Vin 
Established in September 2011, Vin Patel is a highly qualified personal trainer and health fitness specialist. 
Working with males and females from age sixteen and over, Vin can help with: 
Weight/Fat Loss
Muscle/Body Building;
Strength and Conditioning
Sports Training

 
Whether you prefer to train at home, in the gym or outdoors, Vin will create a personalised training programme to suit you. 
Vin also provides a service for group training, boxing fitness & TRX® Suspension Training®. This includes customised training programmes as well as detailed nutritional information customised for each client and their goals. 
Call now for further details or to arrange a personal training session. 
07999 415335 
Nutritional Advice
Want to know more about healthy eating? In addition to fitness and exercise, Fitness with Vin can provide you with a healthy eating plan and ongoing personal support to help you lose or maintain a healthy weight. 
12 Week 'free your body' Challenge
Fitness with Vin is currently running a 12 week 'free your body' challenge - a fitness programme designed specifically to help you lose body fat as well as show off and build on the lean muscle you already have. 
The programme is tailored to clients individual goals and therefore varies for everyone. 
The 12 week 'free your body' challenge has seen some amazing results in the past – call now to find out more! 
07999 415335 
Why Choose Fitness with Vin? 
There are so many reasons why you should choose Fitness with Vin as your preferred personal trainer in Harrow including: 
Unlike some personal trainers, Vin is highly qualified in Sport and Exercise Science;

Your whole personal training programme will be backed up with scientific knowledge and research;

Vin has no room for failure – just clear results;

Vin offers a 100% money back guarantee!

You will gain increased confidence and self-esteem.

 
---
If you want to achieve something in the field of fitness, health or sport, contact Fitness with Vin in Harrow today for personal training  – he guarantees results!
Contact us

Playgolf London
Watford Road,
Harrow
Middlesex

HA1 3TZ

Email us now

Visit our website

find us here

follow us

This is a live stream from Twitter - not the voice of thebestof!

find us on facebook