The Battle of the Street Artists | by Secret Art London in association with Loop
Secret Art Gallery London, 28 Cheshire Street Brick Lane, Greater London, England, United Kingdom
E2 6EH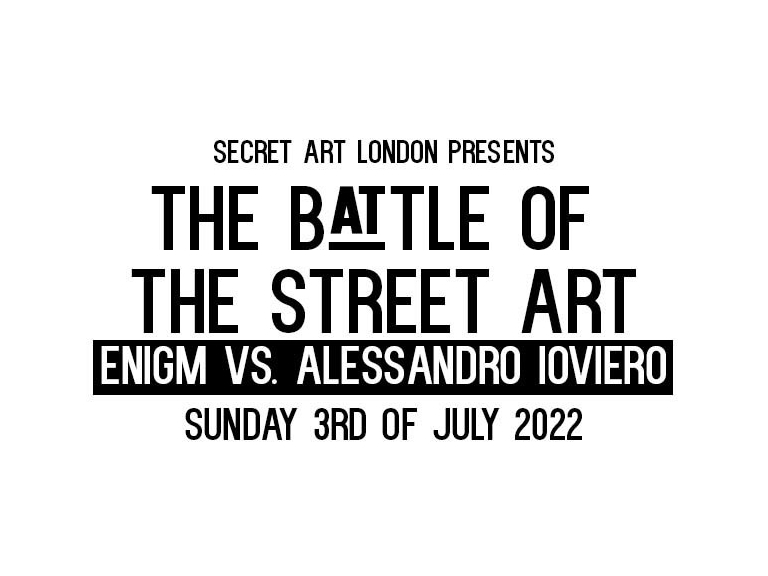 The Battle of the Street Artists: LIVE - Enigm v Alessandro Ioviero | Sunday 3rd July from 1:30pm - 3:30pm
Join us for The Battle of the Street Artists on Cheshire Street on Sunday 3rd July from 1:30pm - 3:30pm to witness two of the UKs most prolific street artists battle to create an original graffiti mural from a theme selected by the audience, in only 90 minutes.
In the red corner, we have Alessandro Ioviero, an astonishingly accomplished graffiti artist of the photo realist style (https://instagram.com/alessandro.ioviero). Alessandro has installed his murals in some of the most salubrious private residences in Europe.
In the blue corner, all the way from Tokyo, Alessandro Ioviero will battle Enigm, an incredibly talented artist who has become famous for communicating his imaginary surrealist world through his intricate graffiti murals, which are inspired by the etchings and illustrations of the 19th century (https://instagram.com/enlgm).
The battle will be presented by our commentator, actor Raymond Rose (Woman in Black, Clash of the Moths) and his glamorous assistant "Fica Bagnata", and will take place in two 45 minute halves, with an interval of approximately 15 minutes.
The event will take place on Cheshire Street, outside the Secret Art Gallery. We will be boarding over part of our building, and our contestants will each be given a wall, side-by-side, to create their mural. Expect a festival atmosphere, lots of audience participation and a chance to win original artworks from the competitors.
The Battle itself is a free event, but for only £10.00 you can purchase a Backstage Pass which will grant you exclusive access to the backstage and backyard of Secret Art London, where you can meet and hang out with these two amazing artists, enjoy LIVE music, eat some yummy food and hang out with cool people: https://www.eventbrite.co.uk/e/battle-of-the-street-artists-afterparty-only-tickets-338212050347 **Book early as spaces are limited**
This event is sponsored by Loop - Europe's leading manufacturer of graffiti paint.