Leadership Development Course - 22/23rd June 2022 - Impact Factory London
Impact Factory | Professional Development | Training and Courses, 52 Upper Street, Greater London, United Kingdom
N1 0QH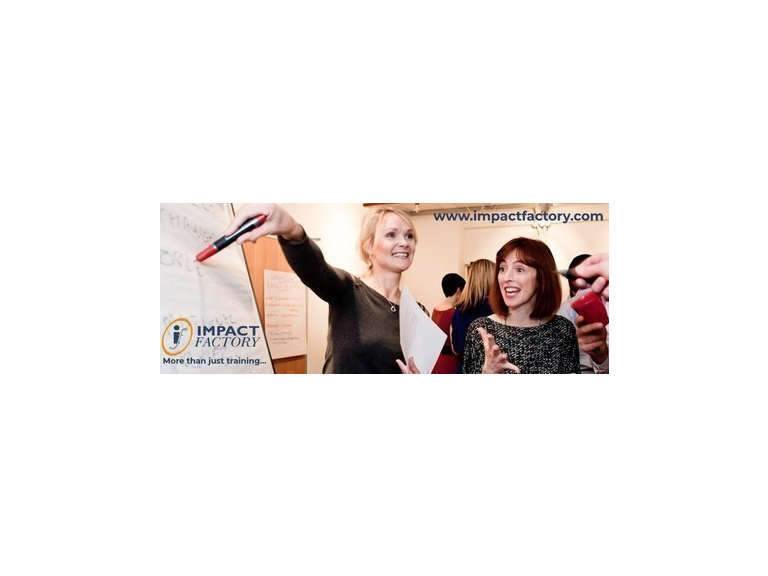 Leadership Course - two day. Develop Your Leadership Style! Inspire Your Team! Motivate Your Department! Transform Your Company! This is a Hybrid Course taking place at Impact Factory.
This is a dynamic, experiential leadership and management training course.
You will be involved in games and exercises in which you'll recreate and re-run real interpersonal situations.
We believe this is one of the top leadership courses in the UK. Our aim is to develop your individual leadership style so you can inspire and motivate your team, department and company.
It is a challenging, insightful and hugely rewarding two days.
Our leadership and management courses are suitable for anyone taking on a leadership role or developing as a leader.
Course Objectives:
* Leadership Behaviours
* Beyond Traditional Stereotypes
* Individual Qualities and Strengths
* Powerful Communication
* Power of Changing What You Do
* Leading by Example
* Managing Group Dynamics
* Getting Committed to Projects
* Exploring Delegation
* Working with Difficult People
* Keep Things Moving Forward
* Empowering, Inspiring
* Becoming a Mentor
What Our Delegates Say:
"I found the course useful in so many ways, and it's really changed the way I approach my work, it really was so inspirational to me. In fact, I've already recommended that one of my colleagues does the same course and he is now booked on for the new year!"
Jayne White - Projects & Development Manager - J&K Confectionery
"The course has been a great help over the last few weeks and I have now seen a decline in interruptions throughout the day. I came back from London really motivated. I just now need to learn how to deal with stressed out GP's!"
Emma James - Deputy Practice Manager - Riverside Health Centre
"If you haven't had leadership training before and you need a starting place then this course is perfect. You come away feeling much more centred and confident in how you might go about putting tools into practice!"
Jitesh Mistry - Membership Management Executive - The IFT
Booking https://go.evvnt.com/1021213-0?pid=2586 
Tickets https://go.evvnt.com/1021213-2?pid=2586 
LinkedIn https://go.evvnt.com/1021213-3?pid=2586 
Brochure https://go.evvnt.com/1021213-7?pid=2586 
Inquiries https://go.evvnt.com/1021213-8?pid=2586 
Price:
Two day Course: GBP 995.00