Blended Groove Sessions
The Jago, Dalston
440 Kingsland Rd,
London
E8 4AA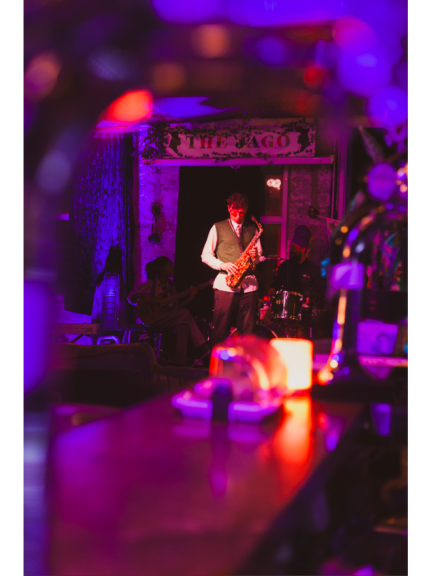 Nouteka presents the Blended Groove Sessions. A night of rhythm, energy and soul for all music lovers to enjoy.
Nouteka have been hosting the Blended Groove Sessions since September 2020, and it has quickly become a staple in the Dalston community. As the Christmas break is over, we are officially coming back on Wednesday 26th January!
These sessions are predominantly modern jazz, however, musicians with a plethora of musical backgrounds grace our stage. On any night you can expect to hear Hip Hop, Neo Soul, RnB, Reggae, Funk and many others.
This is held in the Jago Dalston every Wednesday night, from 8pm - 1am lasting a total of 5 hours. The night takes the form of a classic jam session featuring singers, rappers and musicians from all over London and abroad, with sets in between by DJ Veeswizzle.
There is an incredible house band made up of a guitarist (James Shephard), drummer (Marley Drummond), pianist (Sahil Batra) and bassist (Rosetta Carr).
The Blended Groove Sessions are a space to jam and we are always happy to see musicians of all styles and backgrounds. So feel free to come and sing, rap or simply dance!
In order to make the jam as accessible as possible, we offer a number of free tickets for musicians and under 25's. You can book these in advance here. General Admission tickets are £7 on the door.
Future dates
Wednesday 8th June, 7:30pm - Until Thursday 9th June, 1:00am
Wednesday 15th June, 7:30pm - Until Thursday 16th June, 1:00am