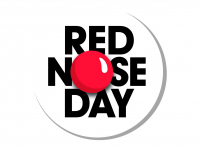 Would you like some delicious tomato and basil soup, or perhaps some giant choc chip cookies, delivered to your work/office/organisation on Red Nose Day? If so then The Specsavers Marketing team have a treat for you, in conjunction with Daniel Green Catering.
---
The soup can be pre-ordered by emailing rednosesoup@gmail.com and placing an order for a minimum of five soups before the deadline of 15th March 2017.
Then on Red Nose Day, on 24th March 2017, the pre-ordered soups and cookies will be delivered to your work/office/organisation with some lovely fresh bread and a spoon for a tasty lunch. The soup will be delivered in individual microwavable pots and you will need to heat the soup yourself.
---
Soups/cookies will also be sold in town at a pop-up shop (address yet to be announced) on Red Nose Day.
All funds raised from the sale of these cookies and soup will go to the Comic Relief charity for Red Nose Day.
---
*thebestof cannot be held responsible for any changes, amends or cancellations of an event
Contact us: 01481 723530

visit us

Guernsey
GY1 1HB

find us on facebook