thebestof Exeter announce their Charity of the Year 2015
11th February 2015
... Comments
---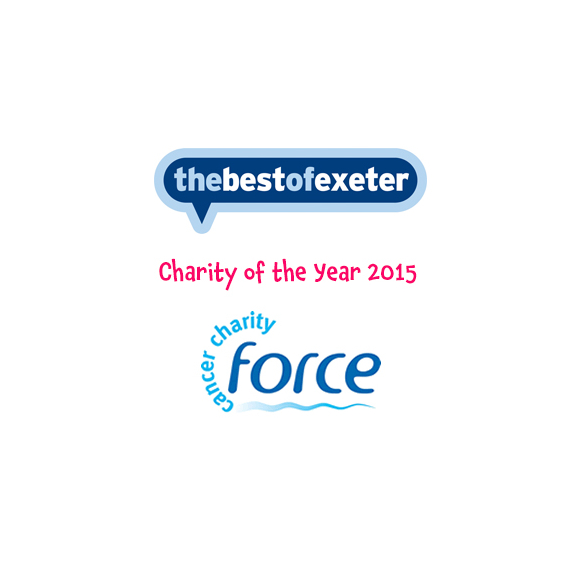 Managing Director Dave Barr said "We are delighted to be working with such a great local charity that does such a fantastic job in supporting people at a very difficult time in their lives. FORCE has a great team and we will be working closely with them at our events this year including the Devon Business Expo on 30th April."

Exeter-based charity FORCE (Friends of the Oncology and Radiotherapy Centre, Exeter) has been helping local people affected by cancer since 1987. FORCE works locally to provide:
Cancer Support and Information – face to face
Funding for local Cancer research at Exeter University
'State of the Art' equipment to improve cancer diagnosis and treatment
It has a Support and Information Centre in the grounds of the Royal Devon & Exeter Hospital and also takes its services into the community with weekly visits to Okehampton and Tiverton.

All of FORCE's services are available free of charge. The charity receives no Government funding and needs to raise around £900,000 every year.

The Support Centre opens five days a week and has had more than 120,000 visits in the past decade.

It helps cancer patients, their families, friends and carers as well as healthcare professionals with a relaxed and welcoming atmosphere that offers a haven from the clinical environment of the hospital.

One-to-one counselling, complementary therapies, relaxation classes, exercise sessions, support groups, benefits advice and an extensive library are among the services available.

"We believe that anyone diagnosed with cancer deserves the best possible treatment and professional support close to home," said the charity's chief executive Meriel Fishwick. "Cancer can bring about change in people's lives. Hearing that you or someone close to you has cancer can be a distressing experience. And it can be tough to face that alone. The FORCE Cancer Support Centre is here to help. Our experienced staff can guide you through this difficult time in so many different ways."

Sarah Daniels, Head of Fundraising added 'We are so pleased to have been chosen as Charity of the Year by thebestof Exeter – this is going to provide so many opportunities to spread the word about the work we do in the local community and amongst local businesses and hopefully encourage some more fundraising for such a great cause. Thank you to Dave Barr and Colin Slade for giving us a great start to 2015'.