Register today! Round the Borough Bike / Hike in #Epsom @epsomewellbc @teamepsomewell
Epsom & Ewell
Round The Borough Hike
Saturday 8th September
Start at Horton Country Park. KT19 8PL
For more info and entry forms visit:
Register today! Round the Borough Hike 2018
Are you up for the challenge?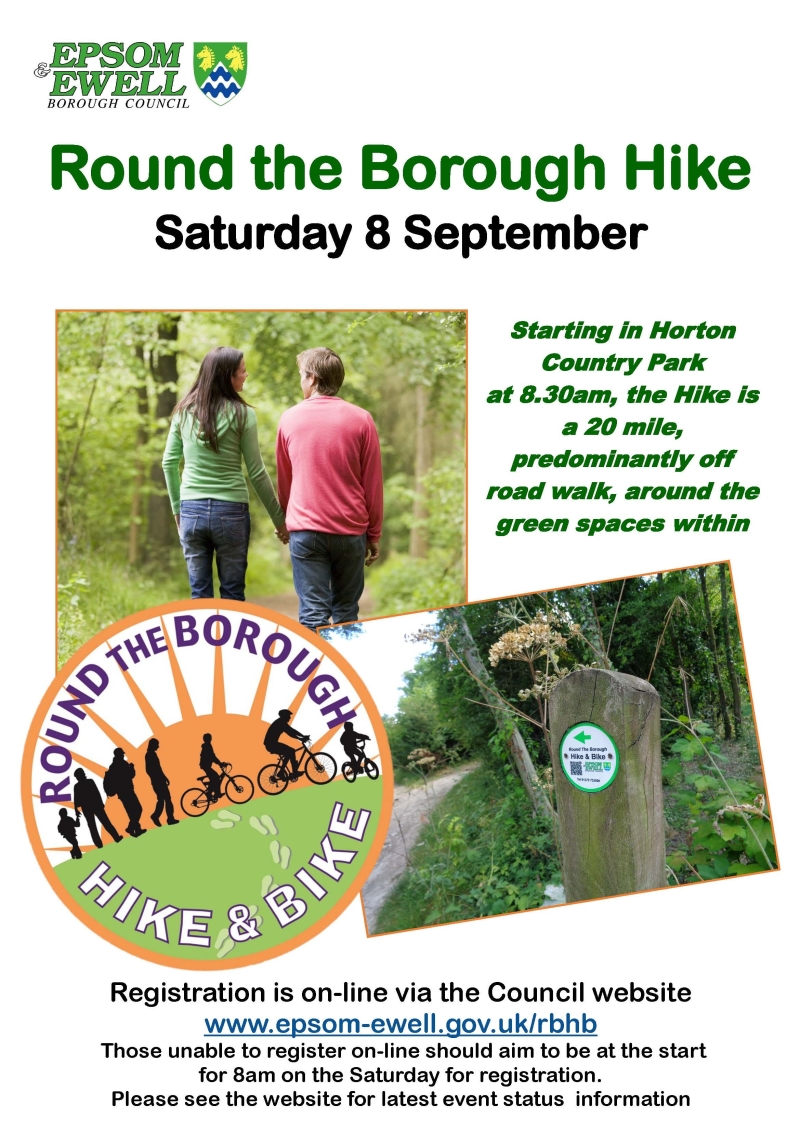 The popular Round the Borough Hike takes place on Saturday 8 September. Are you up for the challenge? Register online today at www.epsom-ewell.gov.uk/rbhb 
Now in its seventh year, this free event for all ages and abilities starts and finishes in Horton Country Park Local Nature Reserve (LNR). The off road walking route of approximately 20 miles long offers participants the chance to explore the beautiful open spaces in Epsom and Ewell including Epsom & Walton Downs, Epsom Common LNR, Nonsuch Park and the Hogsmill LNR. 
Participants will set off from Horton Country Park LNR at 8.30am; the challenge is to complete the full 20 mile route in one day. It is estimated that the family friendly route takes between six to nine hours to walk depending on length and frequency of breaks. You can complete the hike at your own pace or set yourself a challenge to achieve a milestone. 
The route is available to download and view on a smartphone at www.epsom-ewell.gov.uk/rbhb  
Certificates will be awarded to those completing the full 20 miles. Those who completed the Round the Borough Bike earlier in the year and go on to complete the Hike will also get a special keepsake. 
Some of last year's participants who took part in the Hike even raised money for charity. This year's participants are once again invited to raise money for a charity of their choice. 
Participants must wear suitable footwear as the route covers a variety of terrain and is uneven in places; and be prepared for the weather. Under 16s must be accompanied by an adult. Please note, bikes, roller blades/skates are not permitted for the Hike and dogs must be kept on a lead and under control. 
We are looking for volunteer stewards to help marshal the course and ensure the safety of our participants. If you are able to give up two to three hours of your time and help out please contact the Council's Leisure Development's Team at leisuredevelopmentsteam@epsom-ewell.gov.uk or call 01372 732000. 
The Round the Borough Hike was created to build on the London 2012 Olympic legacy. Since its inception in 2013, hundreds of residents have undertaken the challenge, both at the annual event and by using the permanently signed route at other times of the year. For more information visit www.epsom-ewell.gov.uk/rbhb