Banstead Rotary Charity Walk #CharityWalk with @BansteadRotary
Tattenham Corner,
Rotary Marquee
KT18 5NY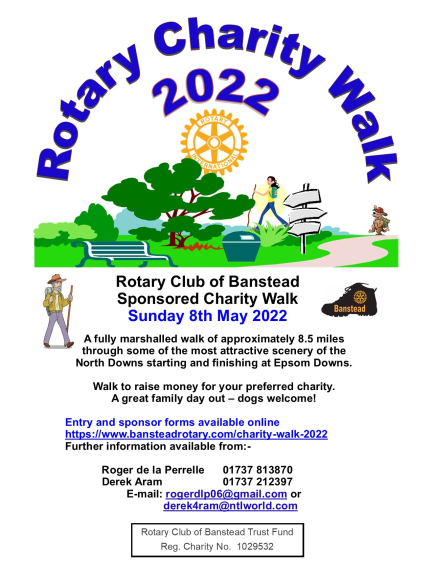 Walk and raise funds for your charity this May!
Banstead Rotary Charity Walk
Sunday 8th May
starting between 8:30 and 10:00am
Everyone wants to get out and about again!  Here's a great way of exercising while helping others!! 
We are inviting you to join us on our Charity Walk 2022 over a route of about 8.5 miles.  This should be manageable by parents and children alike.  The event is taking place on Sunday 8th May 2022 starting between 8.30 and 10.00 am. The walk will take you through attractive North Downs scenery and starts and finishes at Tattenham Corner on Epsom Downs. There is a halfway checkpoint providing some refreshment and Marshals monitor all road crossings. 
This event has proved to be an enjoyable and fun day out in past years and all funds raised are donated to charity. The Rotary Club of Banstead will donate all monies raised to various local and national charities on your behalf or you may elect to have 85% donated to your chosen charity or institution. (This might be your school, scout group, church etc).  
You can enter a team (there is no limit on size).  Individuals and teams raising the most money will receive certificates in recognition of their charitable efforts. 
The Rotary Club of Banstead aim to help you to raise much needed funds for charity and at the same time have a very pleasant morning out in beautiful surroundings with friends and family.  The walk should take about 4 hours or less to complete. 
Sponsors can donate online (using a walker's webpage link on InvestMyCommunity  - see web address below and guidance sheet ) or by using  sponsor forms. 
SEE DOWNLOAD DOCUMENTS on the right
You can also download the forms from:
Forms are now available to download from our website.
https://www.bansteadrotary.com/charity-walk-2022




https://app.investmycommunity.com/fundraise/rotary-club-of-banstead-trust-fund-2994 
For further information please phone or email :-
Roger de la Perrelle (01737) 813870        rogerdlp06@gmail.com
Derek Aram (01737) 212397                    derek4ram@ntlworld.com