How can Volunteering benefit you?
People Matter
17 Gildredge Road
Eastbourne
BN21 4RU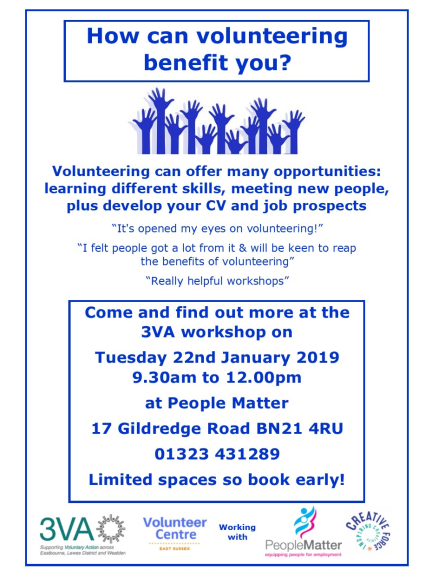 Volunteering can offer many opportunities: learning different skills, meeting new people, plus develop your CV and job prospects. This workshop can help you to find what the right volunteering opportunity could be for you.
Local charities  -  3VA, People Matter and Creative Force have joined forces to deliver hands on workshops, with new dates announced for January, February and March 2019.
 3VA is the charity that supports and develops the voluntary and community sector in Eastbourne, Lewes and Wealden, whilst People Matter provides information, advice and guidance to jobseekers, whether or not they are currently working. Creative Force develops programmes of creative workshops in local communities to get people thinking 'outside the box'. 
We have piloted the workshops and the feedback was so positive that we secured a small amount of funding to deliver them again in 2019.  These workshops are designed to help people find out more about how the experience of volunteering can create opportunities, in work by adding to their CVs and job prospects and also in their lives generally through learning different skills, using untapped talents and meeting new people. It also offers advice on how to find the right volunteering opportunity for individuals.
 "It's opened my eyes on volunteering!"
 "I felt people got a lot from it & will be keen to reap the benefits of volunteering"
 "Really helpful workshops"
Come and find out more at the 3VA workshop on
Tuesday 22nd January 2019 9.30am to 12.00pm
at People Matter:
17 Gildredge Road BN21 4RU
01323 431289
Limited spaces so book early!