Eastbourne Seafront Health Walk
Sovereign Centre, Royal Parade, Eastbourne
BN22 7LQ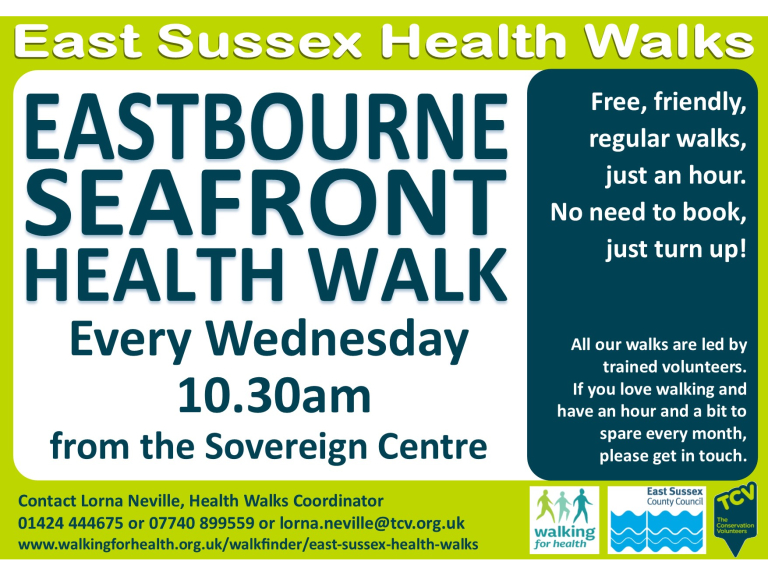 Free weekly health walk from the Sovereign Centre, every Wednesday 10.30am
Join our seafront health walks every Wednesday from outside the Sovereign Centre. We alternate between walking west to the Pier and east to Sovereign Harbour. This walk is about an hour and a half, with the tea break at the turn around point. The terrain is pretty level all the way, so wheelchairs or scooters or buggies can easily manage.
Gentle, regular exercise... you'll soon start to feeel the benefits. 
Completely free to join and absolutely no need to book, just turn up at bit before 10.30am and look for the leaders in yellow waistcoats. Parking tokens are provided by the Sovereign Centre.
We also have walks in Eastbourne on Tuesdays and Fridays.
Future dates
Wednesday 6th February 10:30am until 12:00pm
Wednesday 13th February 10:30am until 12:00pm
Wednesday 20th February 10:30am until 12:00pm
Wednesday 27th February 10:30am until 12:00pm
Wednesday 6th March 10:30am until 12:00pm
Wednesday 13th March 10:30am until 12:00pm
Wednesday 20th March 10:30am until 12:00pm
Wednesday 27th March 10:30am until 12:00pm
Wednesday 3rd April 10:30am until 12:00pm
Wednesday 10th April 10:30am until 12:00pm
Wednesday 17th April 10:30am until 12:00pm
Wednesday 24th April 10:30am until 12:00pm
Wednesday 1st May 10:30am until 12:00pm
Wednesday 8th May 10:30am until 12:00pm
Wednesday 15th May 10:30am until 12:00pm
Wednesday 22nd May 10:30am until 12:00pm
Wednesday 29th May 10:30am until 12:00pm
Wednesday 5th June 10:30am until 12:00pm
Wednesday 12th June 10:30am until 12:00pm
Wednesday 19th June 10:30am until 12:00pm
Wednesday 26th June 10:30am until 12:00pm
Wednesday 3rd July 10:30am until 12:00pm
Wednesday 10th July 10:30am until 12:00pm
Wednesday 17th July 10:30am until 12:00pm
Wednesday 24th July 10:30am until 12:00pm
Wednesday 31st July 10:30am until 12:00pm