Animazing Story of Children's Television
The Pavilion Cafe
Royal Parade
Eastbourne
BN22 7AQ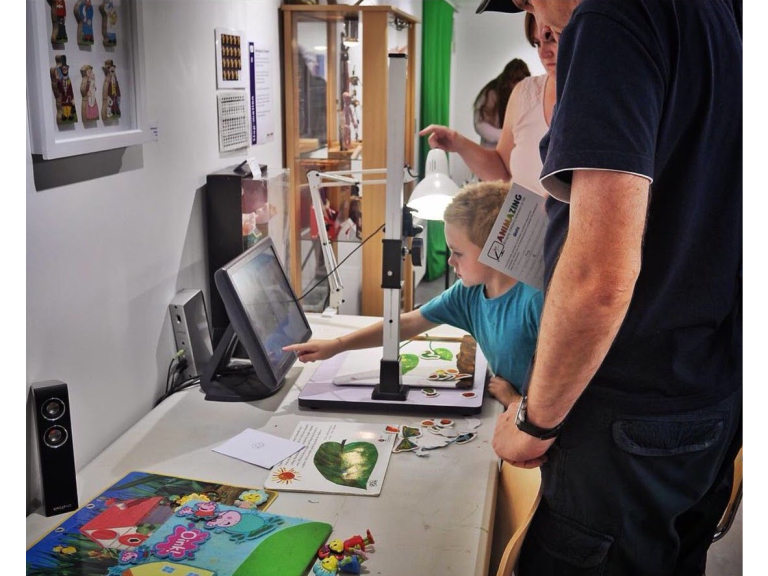 Celebrating over 70 years of children's television, this free exhibition takes visitors on a fun interactive journey showcasing memorabilia from some of TV's most iconic shows alongside fun interactive exhibits demonstrating how our most loved characters were brought to life.
The exhibition has something for everyone, whether you want to get hands on in the animation studio, or simply reminisce about the favourite characters from your own childhood. It is a great day out for the kids, grandkids, parents and grandparents.
Visitors start their journey exploring how pre-historic man may have used cave paintings to create the first ever animated characters. Then learn how simple puppets like Muffin the Mule and Sooty & Sweep were brought to life on screen and have a go yourself.
See how special effects brought an exciting new breed of puppet characters to life in Gerry Anderson's Supermarionation series, Thunderbirds, and how merchandising became a huge part of our lives too. See how flying and underwater sequences were filmed and how programme makers still create realistic models from recycled junk.
Try and create your own sound effects and explore our library of fun and realistic pre-recorded effects.
In our animation studio learn how award-winning UK studio Aardman Animations brought characters like Wallace & Gromit to life, and create your own animated character.
Other characters and shows featured include Clangers, The Wombles, Trumpton, Bagpuss, Magic Roundabout and Dangermouse.   Finally in our live action studios you could present or direct your own TV show, or step into our green screen studio and experience a dive underwater with a giant turtle or flying a broomstick over Beachy Head.
Admission and all activities are free. The Pavilion Cafe and Exhibition are open daily from 10am to 5pm.
This exhibition has been made possible thanks to a partnership between Animazing C.I.C. and Eastbourne Borough Council, funding from Devonshire West Big Local and support from local businesses; JWD Removals, Denis Bonnici Electricians, Train Times Model Shop, Polegate Equestrian Centre and Personal Jewellery Service.
Animazing C.I.C. is a not for profit Community Interest Company and a member of Devonshire Collective.
Future dates
Wednesday 21st August 10:00am until 5:00pm
Thursday 22nd August 10:00am until 5:00pm
Friday 23rd August 10:00am until 5:00pm
Saturday 24th August 10:00am until 5:00pm
Sunday 25th August 10:00am until 5:00pm
Monday 26th August 10:00am until 5:00pm
Tuesday 27th August 10:00am until 5:00pm
Wednesday 28th August 10:00am until 5:00pm
Thursday 29th August 10:00am until 5:00pm
Friday 30th August 10:00am until 5:00pm
Saturday 31st August 10:00am until 5:00pm
Sunday 1st September 10:00am until 5:00pm
Monday 2nd September 10:00am until 5:00pm
Tuesday 3rd September 10:00am until 5:00pm
Wednesday 4th September 10:00am until 5:00pm
Thursday 5th September 10:00am until 5:00pm
Friday 6th September 10:00am until 5:00pm
Saturday 7th September 10:00am until 5:00pm
Sunday 8th September 10:00am until 5:00pm
Monday 9th September 10:00am until 5:00pm
Tuesday 10th September 10:00am until 5:00pm
Wednesday 11th September 10:00am until 5:00pm
Thursday 12th September 10:00am until 5:00pm
Friday 13th September 10:00am until 5:00pm
Saturday 14th September 10:00am until 5:00pm
Sunday 15th September 10:00am until 5:00pm
Monday 16th September 10:00am until 5:00pm
Tuesday 17th September 10:00am until 5:00pm
Wednesday 18th September 10:00am until 5:00pm
Thursday 19th September 10:00am until 5:00pm
Friday 20th September 10:00am until 5:00pm
Saturday 21st September 10:00am until 5:00pm
Sunday 22nd September 10:00am until 5:00pm
Monday 23rd September 10:00am until 5:00pm
Tuesday 24th September 10:00am until 5:00pm
Wednesday 25th September 10:00am until 5:00pm
Thursday 26th September 10:00am until 5:00pm
Friday 27th September 10:00am until 5:00pm
Saturday 28th September 10:00am until 5:00pm
Sunday 29th September 10:00am until 5:00pm
Monday 30th September 10:00am until 5:00pm
Tuesday 1st October 10:00am until 5:00pm
Wednesday 2nd October 10:00am until 5:00pm
Thursday 3rd October 10:00am until 5:00pm
Friday 4th October 10:00am until 5:00pm
Saturday 5th October 10:00am until 5:00pm
Sunday 6th October 10:00am until 5:00pm
Monday 7th October 10:00am until 5:00pm
Tuesday 8th October 10:00am until 5:00pm
Wednesday 9th October 10:00am until 5:00pm
Thursday 10th October 10:00am until 5:00pm
Friday 11th October 10:00am until 5:00pm
Saturday 12th October 10:00am until 5:00pm
Sunday 13th October 10:00am until 5:00pm
Monday 14th October 10:00am until 5:00pm
Tuesday 15th October 10:00am until 5:00pm
Wednesday 16th October 10:00am until 5:00pm
Thursday 17th October 10:00am until 5:00pm
Friday 18th October 10:00am until 5:00pm
Saturday 19th October 10:00am until 5:00pm
Sunday 20th October 10:00am until 5:00pm
Monday 21st October 10:00am until 5:00pm
Tuesday 22nd October 10:00am until 5:00pm
Wednesday 23rd October 10:00am until 5:00pm
Thursday 24th October 10:00am until 5:00pm
Friday 25th October 10:00am until 5:00pm
Saturday 26th October 10:00am until 5:00pm
Sunday 27th October 10:00am until 5:00pm
Monday 28th October 10:00am until 5:00pm
Tuesday 29th October 10:00am until 5:00pm
Wednesday 30th October 10:00am until 5:00pm
Thursday 31st October 10:00am until 5:00pm