How you can win £100 & support local businesses? #BizOfTheYear
It's that time of the year again when Business of the Year has arrived and the leaderboard goes live and local businesses battle out to win.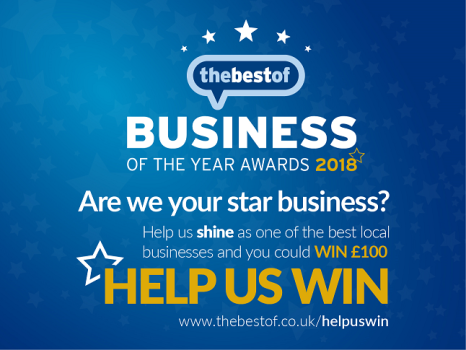 Last year we won in our category in Eastbourne and overall nationally and it was a great achievement, this year we've switched our category to Electrical services and we are currently 2nd across the UK and 1st out of all the businesses in Eastbourne. Can you help us win again this year?

How you can win £100
Could £100 be of use to you? Well, as a thank you the Best Of Eastbourne have a free prize draw to win £100 where the winner will be picked at random.
All you need to do is leave Tectonic or another local business a verified review on their feature.
Now at Tectonic, we understand that your time is precious so to help you make it easier to leave a review there are 2 really easy ways of leaving it. It's a win-win.
***Option 1***
Follow our link to our Best Of Eastbourne feature, leave your review and create an account
***Option 2***
If you would rather not sign up you can email Rhian in the office at office@tdsluk.co.uk with your customer review and she will take care of the rest. All you have to do it keep an eye on your emails & junk folder for an email from the Best Of to verify your review. And just like that your review is live and you're in the competition.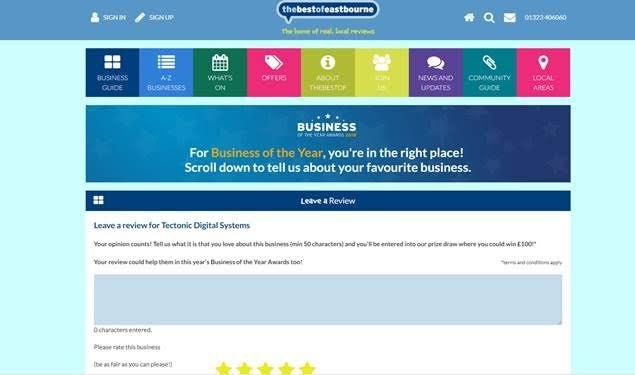 Supporting Local
Why should you leave a review? If you have used a local business not only are you helping them by choosing to use them but leaving a review to share your experience with others shows you are supporting local businesses and helping other consumers choosing the right business for their needs. Apart from winning £100, the Best Of Eastbourne is all about show cases Eastbourne's local businesses with their Buy Local scheme. Buying local you are getting the experience and knowledge of someone who knows the town and local area and gives you that personal touch. Tectonic are proud to be a local independent company and highly supports buying local, whether it's another business or supplier.
So if you have used a local business recently and haven't left them a review yet make sure you do and help support local business.
What our customers say
We wanted to share with you what some of our customers have shared with us recently, we have been so overwhelmed with the comments and feedback we've received and we are so thankful to have your support.
In January 2018, Ditzy Media Ltd said:
"Tectonic Digital Systems is a highly professional Electrical & TV aerial & satellite services company offering a wealth of services to Eastbourne (and beyond). Having used Tectonic Digital myself, and known of the company for many years, I can vouch for their high standards of customer care and professional service. I would not hesitate in recommending Tectonic Digital Systems to others."
In January 2018, Gavin P said:
"I have been dealing with Nigel and his team from Tectonic for a number of years now over a variety of different contracts from domestic to commercial, on schools local authority work and high end residential and I can honestly say that I have never been disappointed . Their professional approach and top class work never ceases to amaze me. I have used a few electrical contractors over the years and hands down Tectonic are head and shoulders above the rest. They have been a great asset to my own company as an extension of my own attitude as to what makes a good contractor. I would not hesitate in recommending them whether its changing a plug or completely designing and wiring a new build. Also I love the fact that they are a one stop shop when it comes to anything electrical or digital."
In January 2018, Stephanie T said:
"Yet another great service provided by Nigel and the team. End result was even better than I visualised, amazing set up, rooms left immaculate and tidy like they'd never been. Set up program one to one demo and brilliant choice of equipment and variety, helping you decided what you want and showing you things you can have you didn't even know was possible. I would recommend Tectonic to anyone especially if you are thinking or upgrading your current system. Over the last 25 years I have never been disappointed."
In December 2017, Peter E said:
"From initial discussion through to completion I was continually impressed by the expertise and professionalism of Nigel and his team in completing my electrical requirements. First class job, would highly recommend."
In November 2017, Birchwood Group said:
"We continue to use Tectonic services for both our IT systems but also for electrical works. Recently they have helped us look at how we can make our out of hours lighting more cost efficient which our FD is very happy about. Always professional, friendly and helpful."
In November 2017, Michael F said:
"Tectonic have help us with the installation of computer network cabling. They were thorougher and professional from quotation, planning, project management and the installation was carried out quick and with minimal disruption. I'd highly recommend Tectonic for any of your electrical and data networking needs."
Don't forget to leave us a review before 31st January 2018 for your review to count in Business of the Year 2018 and help us win https://buff.ly/2DJRmPy