Go for victory this No Smoking Day
6th March 2014
... Comments
---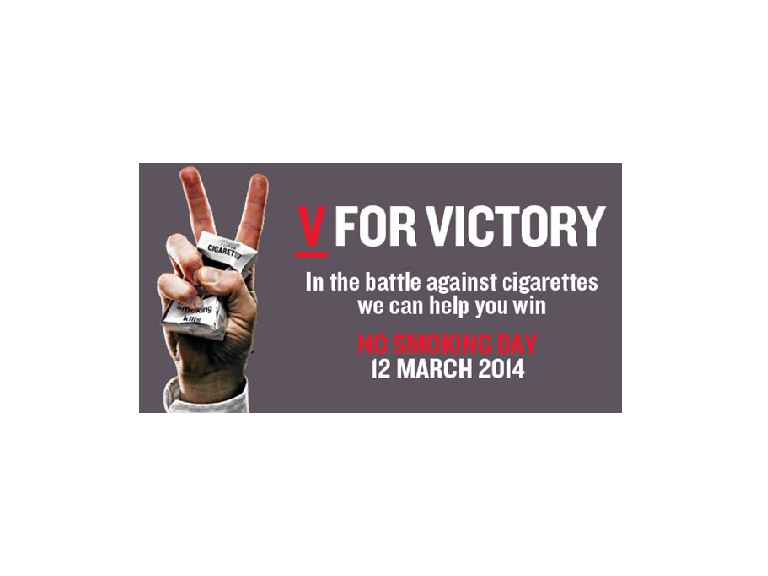 Organised by the British Heart Foundation, the theme for this year's No Smoking Day is 'V for Victory', aiming to encourage smokers to quit and win the fight against cigarettes.
From 8-14 March, Crawley Wellbeing will have a stop smoking stall at K2 Crawley where people taking part in the challenge can pick up free Quit Kits, get advice from wellbeing advisors and find out more about stop smoking services available.
Councillor Duncan Crow, Cabinet member for Leisure and Culture, said: Stopping smoking has long-term health benefits for all involved and their families, and can also save people a great deal of money.
Research shows you are far more likely to succeed in stamping out the habit if you have support and we are keen to help anyone who wants to quit and visiting our Wellbeing Team is an excellent starting point.
In West Sussex it is estimated that 124,000 people aged 18 and over are smokers. Stopping smoking will save the average smoker more than £150 a month and almost £2,000 a year.
There is a range of services available in West Sussex for anyone wanting to stop smoking. Research shows that getting the support of a Stop Smoking Service makes smokers four times more likely to quit successfully than if they try on their own.
To find out more about the West Sussex Stop Smoking Service and local services offered, visit the West Sussex Wellbeing website at www.westsussexwellbeing.org.uk or call the helpline on 0300 100 1823.
Information and advice is also available from the No Smoking Day website at www.nosmokingday.org.uk, including the opportunity to put together a personal battle plan.