Yoga in the Walkways at Tower Bridge
Tower Bridge Exhibition,
Tower Bridge Road
SE1 2UP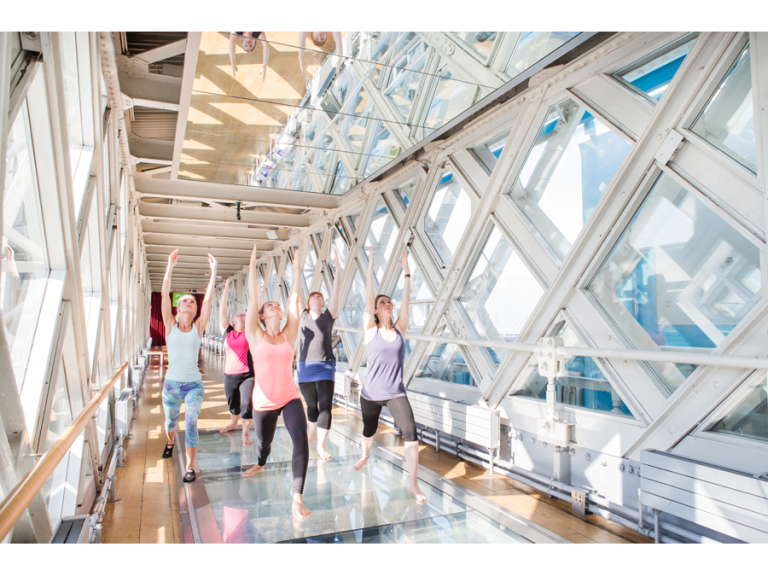 Experience something truly unique with our sunrise yoga classes along the high-level Walkways, 42 metres above the River Thames. Enjoy stunning London views out to the west and even down below through the spectacular glass floor.
Kick-start your day with a once-in-a-lifetime experience.
Tower Bridge invites you to enjoy a unique London experience with exclusive sunrise yoga classes in the high-level Walkways, 42 metres above the River Thames.
London-based yoga teachers will have you striking the perfect downward facing dog through energetic vinyasa-flow yoga classes that will help you kick-start your day.
Designed to revitalise Londoners with spectacular river views from inside the most famous bridge in the world, the yoga classes will allow participants of all abilities to perfect their practice. Daring yogis can position themselves on the glass floor for a suspended view of road and pedestrian life, all moving at pace 42 metres beneath their feet. Participants may even witness the magic of the Bridge's famous bascules raising for a river vessel!
Taking place monthly on 19th September, 17th October, 21st November and 19th December, Wednesdays 07:30am-08:30am (arrive by 07:15am). 
£25.00 per person, tickets are available via https://www.eventbrite.co.uk/e/yoga-in-the-walkways-at-tower-bridge-tickets-37909165334 
Space on the glass floor is limited so positions will be allocated on a first-come-first-serve basis.
A small number of mats are available so participants are advised to bring their own. However to maximise the experience on the glass floor, it is recommended to use gripped gloves and socks.
Please arrive 15 minutes before the start time for a prompt start - those arriving more than ten minutes late will unfortunately not be permitted entry due to the disruption of the class.
Future dates
Wednesday 19th December 7:30am until 8:30am