London Animal Communication Workshop
Conway Hall Ethical Society, 25 Red Lion Square, London, United Kingdom
WC1R 4RL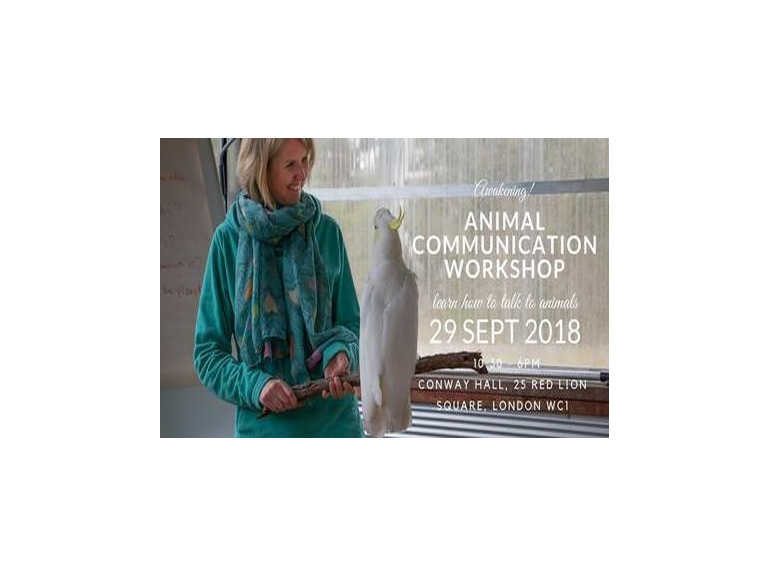 Have you ever felt your animal is trying to tell you something? On this workshop you will learn how to communicate with animals in a two-way connection to ask them questions and gain answers.
Attend a transformational day dedicated to deep connections with animals.
You'll be guided to:
Enter the unconditional love frequency of the heart to experience intuitive two-way conversations with other species.
Awaken your higher consciousness with gentle communications with visiting guest animal-teachers.
Tap into your Super Power to enhance your relationships with your own animals and the Animal Kingdom.
Learn how to:
Locate your Still-Point.
Harness the 5 Modes of Animal Communication.
Quiet your mind and listen to animals with your heart.
Communicate with visiting animal guest-teachers.
Swap communications with fellow participant's animals via photographs of them.
What to expect:
The 5 common challenges in Animal Communication and how to overcome them.
Inspiring access into the sentience and wisdom of animals.
Join like-minded animal lovers with a common mission to improve animal wellbeing.
A powerful community closing ceremony to communicate an Animal Blessing of healing, love and respect to the planet's co-inhabitant's.
Schedule
10 - 10.30am Registration (doors open 10am)
10.30am - 1.30pm Morning session (with a 20 min break*)
1.30pm Lunch*
2.45pm Afternoon session (with a 20 min break*)
5.45pm Closing ceremony - community Animal Blessing
6.00pm Book signing, including Pea's new book, Animal Communication Made Easy
* Lunch and breaks are subject to change.
Pea Horsley
Pea Horsley is one of the world's most loved and acclaimed animal communicator's, TEDx speaker and the author of 'Heart to Heart', 'The Animal Communicator's Guide Through Life, Loss and Love', and 'Animal Communication Made Easy'.
What do I bring into the event?
Please bring real, colour photographs of your animals with you. Plus some water and lunch. There are also shops near by where you can purchase lunch and tea/coffee refreshments.
Please do not bring your actual animals, they will not have access and you could miss the day by returning them home.
Attendees: 18 years old+
Prices:
General seating Early-bird: GBP 75.0
General seating Full price: GBP 95.0
VIP seating (front rows): GBP 115.0
Category: Lifestyle