Erdinger Oktoberfest
Stratford Waterfront, Stratford Walk, Greater London, United Kingdom
E15 2DU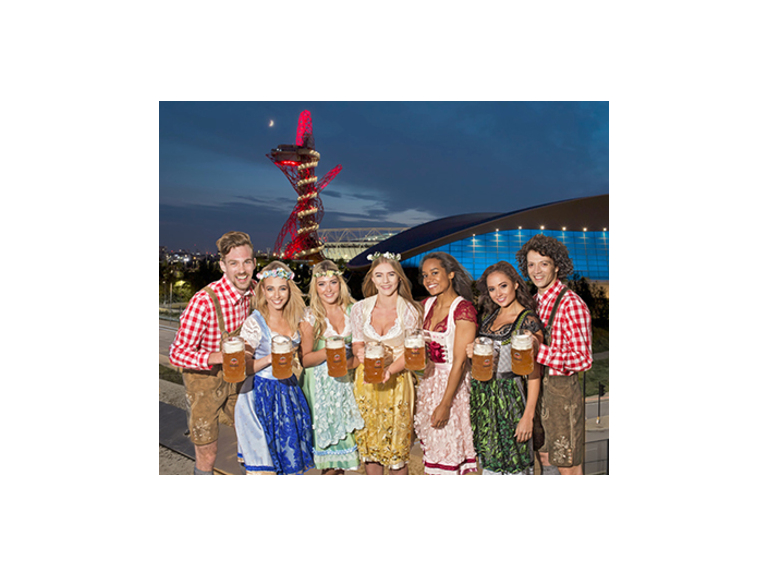 Erdinger Oktoberfest is the largest authentic German beer festival in the UK. The Bavarian beer hall has bench seating, live music and DJs, waitresses in Dirndls plus a funfair & outdoor beer garden,
Erdinger Oktoberfest is the biggest authentic German beer festival in the UK. Following the huge success last year the German brewer's Oktoberfest event is moving to a bigger site at the Queen Elizabeth Olympic Park in Stratford.
Erdinger Weissbräu will have a huge traditional Bavarian beer hall and fun fair at the Queen Elizabeth Olympic Park, open from Thursday to Sunday inclusive.
The event will take place on a beautiful area close to the Aquatic Centre and the ArcelorMittal Orbit on the site where the GB Olympic team won many of their 65 medals at the 2012 Olympics.
The main marquee will look like the outside of a 19th century open-plan Bavarian beer hall with wooden floors and equipped with over 220 bench tables to sit and dance on. The huge 16,700 sq.ft. interior will be decorated with floral garlands, a traditional blue and white striped roof, and a live music stage for entertainment. The beer hall has capacity for 3,000 people and the outdoor space will accommodate another 2,000.
Over 250,000 pints of premium "Erdinger Weissbier" (wheat beer) and smooth lager "Fischers Hell" will be shipped directly from the brewery in Bavaria to guarantee a real Oktoberfest feeling for all Londoner fans. To serve the guests, there will be over 40 expert Bavarian waitresses dressed in traditional Dirndl dresses will be brought in.
Every day live entertainment from famous Oktoberfest bands flown in from Munich will be the major attraction in the main beer hall followed by modern pop acts and DJs that will run through the evening.
There is also a fun fair & outdoor beer garden with genuine wooden Alpine huts, transported from Germany for the month long event. There will be food stalls selling traditional Bavarian cuisine including Haxn (pork knuckles), Leberkäs (beef/pork loaf), Sauerkraut, and of course the world-famous Bratwurst sausages. Visitors will also have the opportunity to buy merchandise articles and souvenirs such as traditional Bavarian clothing.
Tickets https://go.evvnt.com/269478-0?pid=2148 
Price:
Beer Hall Entry GBP 17.25